Qwest gift benefits ISU adaptive horse riding program
July 24, 2008
ISU Marketing and Communications
A $7,471 donation by the Qwest Family & Work Development Fund will benefit the Idaho State University adaptive horse-riding program.
"Without this kind of support we couldn't function," said JoLynn Angle, director of the Idaho State University Riding Instruction Development and Education (RIDE) program. "We'll use this donation to purchase an adaptive saddle and other adaptive equipment for persons with disabilities participating in our program. We also will use it to buy a mounting ramp for people in wheelchairs to use to get on our horses, and to purchase riding helmets."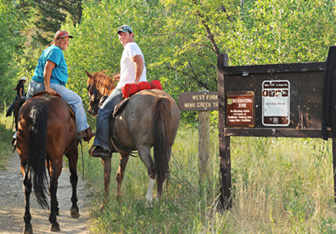 The RIDE program has three major components: 1) it holds classes to teach people to ride for college credit through the ISU Department Sport Science and Physical Education; 2) it offers adaptive riding opportunities to people with disabilities through the ISU Cooperative Wilderness Handicapped Outdoor Group (CW HOG); and, 3) it provides recreational trail and pack rides through the ISU Outdoor Adventure Center.
"We serve ISU students, community members and people with all kinds of disabilities. Just last week we took a quadriplegic on an overnight pack trip nine miles up Bear Creek near Palisades Reservoir," Angle said. "An adaptive saddle like the one we are going to purchase will help us out a lot for future trips like that. Without the donation, there's no new saddle."
The Bear Creek trip had 10 riders on horses and two packhorses. The group was comprised of several staff members, several volunteers, four students and the disabled participant.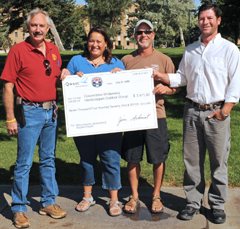 The Qwest Family & Work Development Fund is a partnership between the Communications Workers of America and the International Brotherhood of Electrical Workers.
"This shows the Qwest Corporation and the union can work together to benefit the community by supporting a fine program like the ISU RIDE program," said Dirk Marsden, president of Communication Workers of America Local 7621. "We're proud to support and be associated with a fine program like this."
The RIDE program functions through the efforts of volunteers, who volunteer their time and the use of their equipment and horses. The program has the use of about 12 horses, which have to be in good enough condition and properly trained to be able to be used to accommodate disabled riders.
"The RIDE program couldn't function without its volunteers," Angle said. "And, I can tell you, we have way more demand for our program than what we can serve."
The program is active year around, but most active on trail rides and pack trips between April and September. During the summer, the group meets on Wednesday evenings to do trail rides and does regular weekend pack trips through the Outdoor Adventure Center.
For more information, contact the ISU Outdoor Adventure Center, (208) 282-3912.
---
Categories: