Political science professor Foster, former chair, to retire
May 2, 2008
ISU Marketing and Communications
Richard Foster, Ph.D., Idaho State University political science professor, is retiring after 35 years at the University, including 22 years as chair of his department.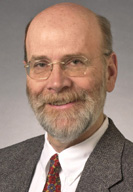 Among his other duties Foster, who was honored as the ISU Distinguished Teacher in 1987, has been the director of the Idaho State University Interdisciplinary Program in International Affairs since it was created in 1988. He also has been the faculty advisor every year except one since 1974 for the student-run International Affairs Council, which annually sponsors the Frank Church Symposium.
"The highlight of my career has not been an event, but rather the relationships I have had with students and colleagues," Foster said. "I've maintained contact with many of my students and I've always had great colleagues in the department. They've made my career easy. They've done their work in a professional manner and we've gotten along well."
Of his tenure as department chair, first in an interim capacity for one year in 1981-82 and then from 1984-2005, Foster joked, "I don't know if being chair for 22 years was an act of leadership or a sentence." But, on a more serious note, he said, "It was very fulfilling and gave me much more knowledge about the University beyond the departmental level."
The University's political science department offers associate, undergraduate, two master's and a doctoral degree, as well as teaching classes for students to meet general requirements. Each semester more than 1,200 students are enrolled in political science classes at the University.
"I've really enjoyed the teaching. It is really what I wanted to do the most," Foster said. "I've liked teaching at all levels. ISU is kind of a unique place because we attract a lot of first-generation college students. I've been able to watch a lot of students grow intellectually and to mature, and then to succeed in their programs here and afterwards, and that has been rewarding."
Foster described the Interdisciplinary Program in International Affairs as a "low cost, high benefit" program, which includes curriculum in political science, history, business, foreign language and other departments.
"This program has really helped bring an understanding of global and international issues to Idaho State University students and to southeast Idaho, and made people here aware of global and international opportunities at the same time," Foster said.
As advisor to the International Affairs Council, Foster said he took a hands-off approach to letting the students plan and carry out the annual Frank Church Symposium, that has attracted government officials, scholars and experts from around the world to address a major international issue selected by students.
This entirely student-run event has attracted the likes of the late U.S. Senators Frank Church and George McGovern, and a whole gamut of prestigious speakers, from Oscar Arias, former president of Costa Rica and a Nobel Peace Prize recipient, to Anthony Lake, Assistant to the President for National Security Affairs from 1993 to 1997 in the first Clinton Administration.
"Organizing the Frank Church Symposium is one of the best experience students can have," Foster said. "They choose the topic, start making cold calls to famous and high-powered people all over the world to get them to come to Pocatello, they set up the panels and all the hotel arrangements for the guests. They pull it off every year and the participants can't believe it's really student run."
A native of the northern California town Corning, Foster earned a B.A. in political science and a secondary teaching certification from Chico State College (now California State University, Chico). He earned a Master of Art degree in politics from McMaster University in Hamilton, Ontario, Canada; and a Master of Public Administration and a Ph.D. in political science from the University of Oklahoma.
The Richard H. Foster Scholarship Endowment was established by an anonymous donor in February 2007 to honor Foster. For more information on the scholarship, or to contribute, contact the Idaho State University Foundation, (208) 282-3470.
---
Categories: