Local prep students receive ISU chemistry research fellowships
July 8, 2008
ISU Marketing and Communications
Eight students from local high schools have received the American Chemical Society (ACS) Project SEED Research fellowships to conduct chemical research at Idaho State University this summer.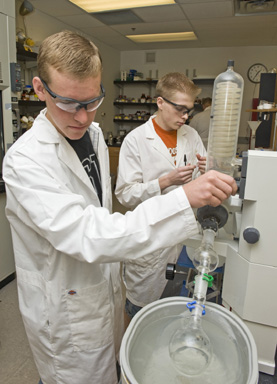 The prep students are working with chemistry faculty members to answer cutting-edge research questions. This year's SEED fellows are Andrew Baker, Alex Hyde, Kevin Housely, David Reno and Zed Platt from Pocatello High School, Gibril Omar from Century High School, Chloe Lombard from Highland High School and Joshua Peterson from Idaho Falls High School
"The students are completing real university-level scientific research under the guidance of mentors," noted Project SEED coordinator Joshua Pak, Ph.D., ISU associate professor of chemistry. "They are writing reports and some are going to a conference to present their research findings."
ACS Project SEED I and II programs provide $2,500 and $3,000 fellowships to economically disadvantaged students to participate in summer research at an academic, government or industrial laboratory.
An important feature of the Project SEED program is its emphasis on career development and its motivation of students to pursue higher education in the chemistry- related fields.
Five ISU chemistry faculty members are serving as mentors. They are Drs. Byron Bennett, Andrew Holland, Robert Holman, Joshua Pak and René Rodriguez. Although ACS provides no monetary compensation for the researchers who work with SEED students, all previous and present mentors agree that the program is worth the extra effort.
In addition to major monetary and insurance support from ACS, ACS Idaho Local Section, ISU College of Arts and Sciences, Department of Chemistry and Office of Research have generously supported the program.
ISU's program is coordinated Pak, who can be contacted for further information at (208) 282-2612 or pakjosh@isu.edu.
---
Categories: