Krehbiel named vice president for student affairs
June 30, 2008
ISU Marketing and Communications
Idaho State University has named Lee Krehbiel, Ph.D., its new vice president for student affairs. Krehbiel has been serving as interim vice president of student affairs since September 2006.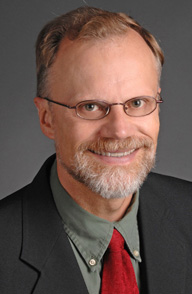 "Lee is an exceptional and dedicated professional who can be counted on to represent the best interests of students," said ISU President Arthur C. Vailas, Ph.D. "I know he will continue to demonstrate the passion and loyalty that have characterized his previous service as he moves ahead. He is a great asset to the University."
He originally came to ISU in 1996 to serve as assistant dean of students. He was promoted to associate dean of students in 2005.
"Dr. Krehbiel leads by example," said Leonard D. "Buddy" Frazier, ISU's director of affirmative action, who, along with others quoted below in this story, was on Krehbiel's advisory committee. "He has been a strong advocate for diversity and is totally committed to students and puts them first when it comes to service and academic achievement."
Administratively, Krehbiel has worked closely with student unions, student activities, general counsel, campus daycare, judicial affairs, student leadership and government, study skills, and international programs and services.
"I am thrilled that Dr. Krehbiel will be appointed to the position of vice president for student affairs," said JoAnn Hertz, ISU director of academic advising in enrollment planning. "He is known by students, faculty and staff as a person of great character and integrity and vision. He initiated the liaison exchange program between the student affairs and enrollment management divisions to enhance collaboration and communication. His idea has been very successful and, as the EM liaison, I see continued opportunities to create shared programming and greater understanding."
Krehbiel received positive reviews from others on his advisory committee, including Barbara Adamcik, Ph.D., associate vice president for academic affairs.
"In his interactions with students and faculty alike, Dr. Krehbiel has shown me that he is a person of great integrity," Adamcik said. "His excellent critical thinking skills and clear communication style, along with his extensive student affairs experience, make him a great person to lead the division."
Her sentiments were echoed by Mike Echanis, assistant director of TRiO Support Services, who said, "During Dr. Krehbiel's tenure as interim vice-president for student affairs he has led our division to the forefront in facilitating open communication and networking amongst colleagues and for developing quality assessment models that will allow all of us to improve our services to students."
Prior to joining Idaho State University, Krehbiel was a research associate at the Indiana Education Policy Center, Indiana University-Bloomington. He previously served as director of Alumni Building (Union) and Campus Activities at Berea College. He taught American history and civics in the Wichita, Kan., public school system from 1984-87.
Krehbiel received a Bachelor of Arts degree in history from Wichita State University, a Bachelor of Science degree in secondary education from the University of Kansas, and both a Master of Science-Education in College Student Personnel Administration and a Ph.D. in Educational Leadership and Policy Studies from Indiana University.
"Dr. Krehbiel has proven himself to be a valuable asset to students time and time again, but more than that he has been a good friend," said Matt Spencer, president of the Associated Students of Idaho State University.
His research and study interests include the collection and management of student activity fees, the history of collegiate food service and collegiate mascots.
Krehbiel will officially begin his duties as vice president at the start of the new fiscal year, July 1.
---
Categories: