Kovacs's woven piece chosen for BAM's permanent collection
June 19, 2008
ISU Marketing and Communications
The Boise Art Museum has purchased the weaving "Oaxaca Memories #5" by Idaho State University chair and professor of art Rudy Kovacs.
BAM's Collectors Forum purchased the cotton, linen and silk 64-3/4-inch by 45-1/2-inch weaving, woven on a jacquard loom.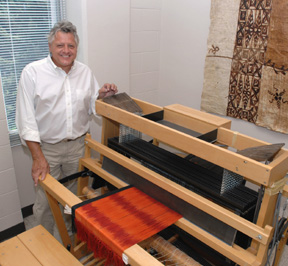 "We are thrilled to add this beautiful and evocative example of Rudy's current work to the Boise Art Museum collection," said Kathleen Bettis, BAM registrar. "He is a master weaver, and his work greatly enhances the growing textile collection at BAM."
The focus of the Collectors Forum, a special membership group at the Boise Art Museum, is art by Northwest artists or relating to the Northwest. Since their founding in 1990, Collectors Forum has purchased 42 works of art for the Museum's permanent collection – eight by Idaho artists, according to Sandy Harthorn, BAM curator of art.
"'Oaxaca Memories #5' received overwhelming approval," Harthorn said. "Works by three other artists – Katy Stone, Todd Hido and Michael Brophy – were also purchased by the group for the BAM collection."
Kovacs's work "Oaxaca Memories #5," created in 2007, was selected for consideration after a process that lasted several months, during which Harthorn and the Collectors Forum acquisitions committee reviewed dozens of artists and works. Submissions were narrowed down to four finalists submitted for consideration to the full membership at their annual May meeting.
"I am very pleased and honored to have one of my recent woven pieces purchased by the Collectors Forum of the Boise Art Museum," Kovacs said. "My work over the decade has involved imagery from Mexico, Hungary, Singapore, Italy, Peru and China. Photographing places that I have been, seen and documented myself, and combining those images with computer design and weaving, allows me to be involved with cultural cross-fertilization and a combined visual thought process."
BAM's associate curator of art, Amy Pence-Brown, selected "Oaxaca Memories #5" for the 2007 Idaho Triennial exhibition and it was also shown on the Triennial Tour at the University of Idaho's Prichard Gallery.
The Museum also has an earlier work by Kovacs in its permanent collection, "Cage Letter #2." This warp-face linen and rayon weaving, which includes gold leaf and paint, was created in 1993, and was purchased by BAM from the 1995 Idaho Artists Triennial Exhibition.
---
Categories: