Kenneth A. Smith, Ph.D., named dean of College of Business
March 12, 2008
ISU Marketing and Communications
Kenneth A. Smith, Ph.D., CPA, associate dean of the Idaho State University College of Business since 1996, has been named dean by ISU Provost and Vice President for Academic Affairs Robert A. Wharton, Ph.D.
Smith's appointment is effective immediately. He came to ISU in 1970 as assistant professor of accounting and head of the accounting program. He advanced to full professor in 1978 and continued to lead the accounting department until succeeded as chair by Robert R. Picard, Ph. D., in 1997. He was named interim dean in 2007, succeeding William Stratton, Ph.D., who returned to full-time teaching and research.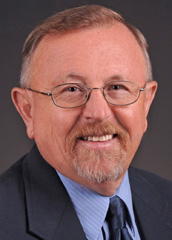 "The selection of Dr. Smith as permanent dean was the result of extensive dialog and consultation with the faculty, staff, and administration in ISU's College of Business," Wharton said. "Idaho State University – our students, faculty, and staff – will be well served by this outstanding professional as he continues working to bring stability, direction, and sound leadership to the College."
Since 1971, Smith has been instrumental in designing, staging and executing Certified Public Accountant (CPA) examination preparatory courses nationwide, further enhancing the ISU accounting program as a national leader. His leadership also led to accreditation of all college business programs by the Association to Advance Collegiate Schools of Business (AACSB).
Smith, a native of Anaconda, Mont., earned his B.S. degree from the University of Montana and his Ph.D. from the University of Texas at Austin.
"I am grateful for the confidence shown in me," Smith said. "The ISU College of Business is poised for even greater levels of business education, research and service and I am looking forward to our future with great optimism," he said.
An avid outdoorsman, Smith enjoys living in the Pocatello area with its many opportunities for outdoor activity. He particularly enjoys hiking and snowshoeing.
The ISU College of Business faculty numbered 13 when Smith arrived in 1970. Today, the college offers seven academic undergraduate majors and one graduate program. It employs 40 full-time and 10 part-time faculty. Yearly undergraduate enrollment is 681 full-time and 354 part-time students with 133 enrolled in the Master of Business Administration program. Programs and classes are available in Pocatello and in Idaho Falls.
---
Categories: