'Jurassic Park' artist Mark Hallett to visit Idaho Museum of Natural History
May 5, 2008
ISU Marketing and Communications
The Idaho Museum of Natural History is excited to announce that Mark Hallett, an internationally known artist, sculptor, and author who is an expert on the anatomy and behavior of prehistoric animals, will visit Pocatello in May. Mark's artwork is currently featured in the Museum's newest exhibit, "The Art of Paleontology."
IMNH will honor Mark at an intimate VIP event at the Museum on Wednesday, May 14, from 5 to 7 p.m.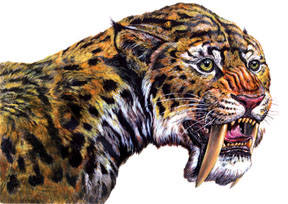 During the event, guests will have a once-in-a-lifetime opportunity to watch this master artist up close and in action. Mark will be demonstrating how he uses a cast of the skull of a Sabertooth cat as the base upon which he sculpts and reconstructs the animal which then allows him to accurately portray Sabertooths in his artwork. Mark will also be available to visit with the guests, answer questions, and sign books and autographs.
Tickets are $20 for Museum Members and $25 for the general public and include admission, beverages, and hors d'oeuvres. Students can purchase tickets for $10 with a valid student ID. Tickets are available at the Museum or at the ISU Student Union Information Desk.
Since 1974, Mark Hallett has expressed his passion for prehistoric creatures and their ancient worlds by specializing as a paleoartist, a term he coined for an illustrator who researches and recreates the life of the past. Beginning in 1982 with an article for Science Digest on new dinosaur discoveries, he has continued to draw, paint, sculpt, and conduct research into how the ancient animals may have looked and behaved for a wide variety of American and foreign publications; his work has appeared in Life, Smithsonian, and National Geographic magazines.
In addition, during the summer of 1990, Mark was the artist and scientific consultant who helped create the dinosaurs for Steven Spielberg's movie, "Jurassic Park." He also helped the Disney Studios create a similar computer-generated dinosaur adventure.
The Museum is located on the campus of Idaho State University at the intersection of 5th Avenue and Dillon Street in Building #12. The gallery is open Tuesday through Saturday from 10 a.m. to 5 p.m. For more information, contact Teresa Nelson at (208) 282-2603 or nelstere@isu.edu or visit the Museum's website at http://imnh.isu.edu.
---
Categories: