ISU's Wong continues studies relating sleep problems, alcohol/drug use
April 23, 2008
ISU Marketing and Communications
Idaho State University's Maria Wong, Ph.D., and her co-researchers from the University of Michigan and Michigan State University are continuing studies that show the relationship between sleep problems in young children ages 3 to 5 with later substance abuse problems. She is now studying people in their early and mid 20s.
This spring Wong received a $296,000 grant from the National Institutes of Health titled "Sleep Problems and Substance Use/Abuse in Adolescence and Young Adulthood."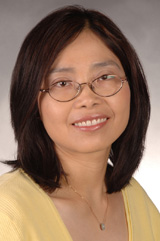 The new grant will allow Wong to extend and expand the research she started in 2004 that looked at sleep problems in childhood and the early onset of alcohol and other drug use in adolescence. In her initial study, Wong and her co-researchers from Michigan State University and the University of Michigan found children's behavior as early as age 3 can predict whether they will use alcohol and illicit drugs in adolescence. In 2006 Wong completed a related study focusing on self-control and alcohol use.
Now Wong is looking at the same population that was analyzed in her first study and examining how sleep problems as toddlers affect them even later in life. She is using extensive data on a large group of children 3 to 5 years old that was collected by the University of Michigan in the mid-1980s funded by National Institutes of Health. Dr. Robert A. Zucker was the principal investigator who collected the data. That population is now in its 20s and is still being tracked. She began her new analysis this month and will be working on the project for two years.
"The link between sleep and substance abuse has been reported in adult populations for quite some time," Wong said. "But there hasn't been much study of the link between sleep problems in children and how that affects them as adults."
Earlier studies have shown a link between early alcohol and drug use in adolescents with a greater incidence of substance abuse problems later in life. Wong will be analyzing the possible link early sleep problems may play in this chain.
"It is a chicken-and-the-egg type of problem, finding out if one causes the other," Wong said. "There may be a link between self control and alcohol abuse and one reason sleep and substance use may be related is the lack of self control. This lack of control to monitor your behavior could explain the relationship between sleep and substance abuse."
Her findings could have important implications.
"If early childhood behaviors such as behavioral control and resiliency put individuals at risk for alcohol and drug use, then programs aimed at changing those behaviors at an early age may protect individuals from experimenting with drugs and alcohol later on," Wong said.
---
Categories: