ISU to host Predator-Prey and Saber-toothed Mammal Symposiums
May 8, 2008
ISU Marketing and Communications
Scientific experts from around the world will gather at Idaho State University to participate in the Predator-Prey Symposium May 12-14 and the 2008 International Symposium on Saber-toothed Mammals May 14-17.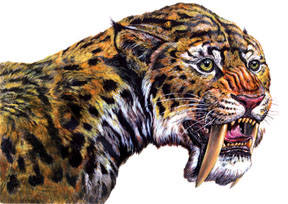 The Predator-Prey Symposium is sponsored jointly by the Idaho State University Department of Biological Sciences and the University of Idaho Department of Fish and Wildlife Resources. The Saber-toothed Mammal Symposium is sponsored by the Idaho Museum of Natural History and the ISU Department of Biological Sciences.
The purpose of the Predator-Prey Symposium is to provide relevant information to resource professionals and interested students and members of the public. There will be an emphasis on large mammals because of the overlap of this conference with the International Symposium on Saber-toothed mammals.
Topics to be discussed at the Predator-Prey Symposium range from "Landscape patterns of predator caused mortality in mule deer: An analysis of different predator systems" based on a study in Idaho, to "Predation by nonnative trout on native fishes in the Grand Canyon of the Colorado River." Pacific salmon predation, human harvest as a predator-prey system and habitat effects on a wolf-deer predator-prey community in Southeast Alaska will be among other topics discussed.
Visit www.isu.edu/departments/bios or contact Susan Rittenhouse at (208) 282-2809 for more information on the Predator-Prey Symposium.
The 2008 International Symposium of Saber-toothed mammals will focus on a group of animals that have captured the imaginations of researchers and public since their first discovery. However, the understanding of these peculiar "hypercarnivores" remains far from complete.
Over a period of 40 million years, the basic saber-toothed mammal evolved independently at least five times on different continents and in unrelated groups only to become extinct each time even though potential prey species survived. Today all are gone without descendants.
The purpose of this symposium is to gather a diverse group of researchers and students looking at different aspects of "saber-toothedness" to facilitate the exchange of information to address a variety of questions about these fascinating creatures.
More information on the 2008 International Symposium on Saber-toothed Mammals is available at http://imnh.isu.edu/ or by calling (208) 282-3168.
---
Categories: