ISU student, alumnus, staff member and teen to trek up Africa's highest peak
June 12, 2008
ISU Marketing and Communications
Four adventurers with connections to Idaho State University – including two in wheelchairs and a 14-year-old boy – will make a nine-day trek this June to the 19,340-foot summit of Mount Kilimanjaro, Africa's highest peak.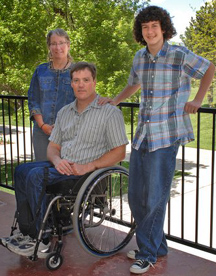 The group leaves Friday, June 13, and is heading up Kilimanjaro with Adventures Within Reach outfitters.
The group consists of:
• Dana Olson-Elle, director of Idaho State University's Outdoor Adventure Center, who scaled Kilimanjaro in 2004.
• Kyle Packer, of Effingham, Ill. Packer is a 1984 ISU graduate in social work who has cerebral palsy. He is an active member of ISU's CW HOG (Cooperative Wilderness Handicapped Outdoor Group). He used a wheelchair, walked on his knees and was carried to the 17,600-foot elevation base camp of Mount Everest in 1998 when CW HOG founder Tom Whitaker became the first disabled person to climb the world's highest peak, at 29,035 feet. Packer will be using a specially adapted wheelchair to head up Kilimanjaro and intends to walk on his knees from "Crater Camp" at 18,000 feet up to the summit.
• Tom McCurdy is currently enrolled in the ISU College of Technology's business information program and has an ISU degree in anthropology. McCurdy is another CW HOG veteran, who made it to the 17,600-foot base camp at Everest during the Whitaker expedition. McCurdy became a paraplegic in 1987 while in the Army when a runaway armored military vehicle pinned him against a concrete wall. Among his many other athletic exploits, he holds the Pocatello Marathon's wheelchair record and won a 400-meter bronze metal for the United States in the Pan American Games. He, too, will be using an adaptive wheelchair designed for off-road travel from the ISU CW HOG program.
• Sage McCurdy is Tom's son. He attended eighth grade at Irving Junior High School in Pocatello last year.
The group's members stress they are doing this for adventure and fun, and aren't trying to set any records. Scaling Kilimanjaro, located three degrees south of the equator in northeast Tanzania, is not a technical climb. It is, however, an arduous trek, starting in the jungle and heading through at least four different ecological zones before the summit is reached.
This group is taking the Rongai route on the mountain's north side and will be gaining 12,800 feet of elevation total, averaging about 500 feet of elevation per mile during the 25-mile ascent. They'll descend on the mountain's south side.
"This is not a wilderness experience," noted Olson-Elle, adding that many as 30,000 people in a calendar year have made the mountain's summit. "You share the trail with a lot of other trekkers and everybody camps on it. You meet a lot of people, which is really cool, and you get to know the locals, the porters and other people on the trail. The porters on the trail may be talking away on a satellite phone or walking with a radio on."
Adventures Within Reach will employ some extra porters to accommodate Packer and McCurdy. In all, there will be a staff of about 20 including three porters per person, cooks and guides. Trekkers are required to use local guides and porters, which is a giant boost to the area's economy.
Packer and McCurdy said they both got the idea for the trek while up on Everest.
"When we went up on Everest with Whitaker, I saw the climbers coming down and the expressions on their faces and in their voices," Packer said. "It made me think I wanted to stand at a high point, but I knew Everest was out of the ball park for me. Tom (Whitaker) said 'go do the next best thing and go to Kilimanjaro' and I've been thinking about it ever since."
Whitaker invited Packer and McCurdy to climb Kilimanjaro in 2000, but they were unable to make it. Packer and McCurdy kept talking about the trip, however, "and were finally getting around to doing it," McCurdy said.
For McCurdy, the most important aspect of the trip is sharing the adventure with his son.
"Going up with Sage, that definitely is the highlight of this trip for me," McCurdy said. "I've been talking about this trip with him since 1998. This is a significant undertaking and a way to share a great experience with my son."
Tom and Sage have been getting in shape for the trek by heading up local trails and roads in the Pocatello area, such as up Trail Creek or Chinese Peak. They've also been working out in ISU's Holt Arena where Sage does stair laps, and Tom has been training on the facility's steep ramps.
"I'm not a type-A personality, but I thrive on a challenge," said Sage, whose other aspirations include being a musician or standup comedian. "I like anything that is challenging and has some danger involved. We're hoping we can put together trips like this every three or four years."
Following the climb up Kilimanjaro, Tom and Sage are participating in a three-day wildlife-viewing safari in Tanzania.
"We are going all that ways, so we thought we ought to get a wildlife safari under our belt, too," McCurdy said.
---
Categories: