ISU names Crowell new Vice President for Research
February 28, 2008
ISU Marketing and Communications
Idaho State University has named Pamela Crowell, Ph.D. – current associate dean for research and graduate education at the Indiana University Purdue University Indianapolis School of Science – the new vice president for research.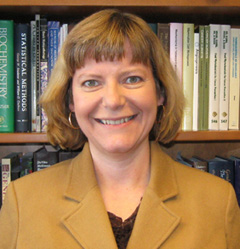 Crowell will begin her duties at ISU at the start of the 2008-09 fiscal year on July 1. She has been the associate dean at IUPUI since 1995 and is tenured faculty in biology. As associate dean she has led IUPUI development and administration of science research centers and facilities, research collaborations, grants and contracts, and graduate programs.
"Professor Crowell is an accomplished researcher with an excellent pedigree," said ISU President Arthur C. Vailas, Ph.D. "She is experienced in research management in a university environment that has a strong health and medical mission."
"Her success," continued Vailas, "in receiving funding from federal grants and commercialization of biotechnology will be valuable to the ongoing efforts of Idaho State University's medical and energy research portfolio. She also has a great track record in building successful partnerships across disciplines, universities, government agencies and industry."
Crowell earned her Ph.D. in biochemistry from the University of Wisconsin-Madison in 1988 and received a Bachelor of Arts degree in chemistry from Augsburg College, Minneapolis, Minn., in 1981. After completing postdoctoral training in oncology at the University of Wisconsin-Madison and at Eli Lilly & Co., she joined the IUPUI faculty as an assistant professor of biology in 1993.
"I share President Vailas' vision for advancing ISU research, and I look forward to working with faculty, students and staff in that endeavor," Crowell said.
She has been an active researcher, administrator, teacher and mentor during her academic career. Her primary research emphasis is in cancer pharmacology and she has received cancer research grants from the National Institutes of Health, private foundations and industry. She has authored 27 manuscripts and has served on the editorial board of the Journal of Pharmacology and Experimental Therapeutics. While at IUPUI, Crowell has mentored more than 40 graduate students, undergraduate students and postdoctoral scientists.
IUPUI boasts an enrollment of 29,000 students; its School of Science enrolls more than 1,800 majors comprised of 1,452 undergraduates and 374 graduate students.
Crowell replaces Larry Ford, Ph.D., who was been the interim vice president for research since the new position was created at ISU in 2007.
---
Categories: