ISU Mass Communication Department selects Terry as new chair
March 3, 2008
ISU Marketing and Communications
The Idaho State University Department of Mass Communication has named Thomas Terry, Ph.D., its new chair after a yearlong search.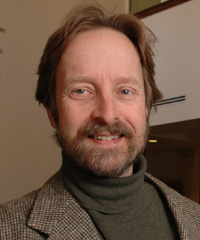 "What appealed to me about this job is the wonderful combination of having administrative responsibilities and still be able to teach," Terry said. "The department also has a great mix of faculty, who have an obvious concern for the students."
Terry, who will begin his duties in July, has a strong academic background. He earned his Bachelor of Arts degree in journalism from the University of Iowa in Iowa City in 1975. He earned both his master's and doctoral degrees in mass communication from the University of North Carolina, Chapel Hill, in 2003 and 2007, respectively. He is coming to ISU following postdoctoral work at the University of North Carolina-CH.
Coupled with his academic accomplishments, Terry has an extensive work history in the newspaper business. A former president of the Illinois Press Association, he has worked in the newspaper business most of his adult life. Terry has owned and managed a variety of newspapers, most recently selling five newspapers in 2000, when he began pursuing his advanced academic degrees.
"I strongly believe in a political system that has a strong, independent press that is well educated," Terry said. "I look at journalism and mass communication education as a higher calling of some sort. When the Framers (of the constitution) put together our system, they made a conscious decision that an independent press is vital to the function of our government. We need properly trained journalists."
Terry takes over as department chair from professors Tim Frazier and Paula Jull, who were serving as interim co-chairs after the departure of former chair Bill Loving in 2006.
Terry has three children: James is in the military history doctoral program at the University of North Carolina at Chapel Hill and will receive his M.A. this spring; William is a senior at East Chapel Hill High School; and Elizabeth is a seventh grader at Smith Middle School in Chapel Hill. His wife, Cathy, is a former elementary school teacher.
---
Categories: