Imago Theatre's FROGZ comes to ISU April 16
April 8, 2008
ISU Marketing and Communications
Idaho State University Theatre and Dance will welcome Imago Theatre's presentation of Carol Triffle's theatrical comedy FROGZ on Wednesday, April 16, at 7:30 p.m., in the Joseph C. and Cheryl H. Jensen Grand Concert Hall in the L.E. and Thelma E. Stephens Performing Arts Center.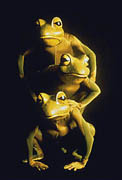 FROGZ has received outstanding reviews from The Boston Globe and USA Today. The New York Times describes this theatrical comedy as, "A mastery…fantastic…sure fire…very funny!" Variety magazine calls it "A simple, elegant work that embraces the joy of imagination…" Imago Theatre brings to life objects and animals to mystify and entertain. Expect to see penguins in musical chairs, acrobatic larvae, and, of course, frogs.
This creature –like performance is appropriate for all ages. It has been viewed by millions on television and on stage and has been touring internationally since 1986. It's been on Broadway twice and will visit Idaho State University for the first time on April 16.
Tickets are $18 main level, $14 upper level. The group's Web site is www.imagotheatre.com/frogz.shtml.
For tickets and information, contact the ISU box office at 282-3595.
---
Categories: