Idaho International Choral Festival tickets now on sale at SPAC Box Office, online
June 10, 2008
ISU Marketing and Communications
The sixth Idaho International Choral Festival, running July 16-20, will provide Idaho and the intermountain region with one of the finest musical experiences in the west this year. Events are scheduled in Pocatello at Idaho State University's L.E. and Thelma E. Stephens Performing Arts Center and Holt Arena, as well as in Blackfoot and Marsh Valley.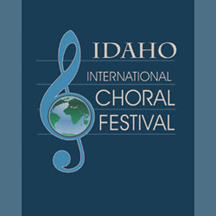 Tickets are now on sale at the Stephens Performing Arts Center Box Office, which is open Monday-Friday from 10 a.m. to 4 p.m. Tickets can be purchased over the phone during the same hours by calling (208) 282-3595 during the same hours. Tickets also can be purchased online at www.isu.edu/tickets.
Festival publicity chair Jerry Miller says festival organizers are making every effort to get people in front of these choirs, "Individual tickets to the events at ISU will only be $5 each. But festival passes are available for $15 per person, or $25 for a family. Imagine being able to take your family to see and hear world class choirs from around the world over a four-day period for just $25!"
Almost 400 participants representing choirs from seven countries outside the United States are scheduled to appear, along with three American choirs, including a nearly 80-member High School Honor Choir from all across southern Idaho. Organizers say they're expecting international choirs this year from Brazil, China Taiwan, Kenya, Lithuania, Romania and Spain, barring any problems getting visas for participants.
Festival Music Director, Dr. Scott Anderson of ISU, says it will be an amazing experience, "Our choirs from abroad this year will amaze anyone who attends, and there's no other event in Idaho, outside of Rexburg's dance festival, that will bring the cultural experience to the region that this festival will. It will be worth any effort to attend at least one festival event." Not only will performances be held this year at ISU, but special performances will also take place at the Marsh Valley Performing Arts Center and at the new Blackfoot Performing Arts Center at Blackfoot High School. Those events will take place on Thursday night, July 17th.
Festival Housing Director Gary Ball says maybe the biggest challenge this year has been finding housing for nearly 400 singers, guests and staff. Some will be housed at ISU's Rendezvous Center, but Ball says the lion's share will be hosted by families in the Pocatello/Chubbuck area, with some even staying with families as far away as Marsh Valley, "You're always nervous going into an event of this size, but once again the fabulous people of eastern Idaho are stepping up to make this entire event a possibility. We could always use more host families, though. And host families also get free admission to festival performances."
Anyone wishing to volunteer to help in hosting choir members can do so by going online to http://idahointerchoralfest.org/, and using the "Volunteer" link to send their information to Ball.
More information about the Idaho International Choral Festival is available online at http://idahointerchoralfest.org/.
---
Categories: