Former ISU dean of student affairs Janet C. Anderson dies
July 30, 2008
ISU Marketing and Communications
Dr. Janet Anderson, who worked at Idaho State University for 31 years and retired as dean of student affairs in 1998, died Monday, July 29, in her sleep from natural causes in Newport, Wash.
A memorial service for her will be held at 4 p.m. Saturday, Aug. 2, at the Sacheen Lake Station located at 6131 Highway 211, Newport, Wash. Please note that this memorial service was original scheduled to be held at Stoneridge Resort located near Blanchard, Idaho, but the location has been changed. A memorial service also will be held in Pocatello at Idaho State University at a time and date to be announced.
Anderson, a breast cancer survivor, was recently undergoing treatment for a rare leukemia.
"I really believe she loved the university, loved working with students and, even after all of these years, some of our programs and services still bear her stamp," said Lee Krehbiel, Ph.D., ISU vice president for student affairs, who was hired at ISU by Anderson in 1996 as assistant dean of student affairs.
Part of Anderson's legacy at ISU is the entity that bears her name, the Janet C. Anderson Gender Resource Center. She was accorded this honor shortly before her retirement at the request of ISU student leaders, who had appropriated student fees for the center's inception. Originally the Janet C. Anderson Resource Center, the center's mission is to serve as the focal point on campus for the consideration of gender issues.
"She did so much for us the students," said Shane Ostermeier, former Associated Students of Idaho State University president during the 1997-98 academic year, who proposed the Gender Center be named after Anderson. "What was neat about her was that every student felt like that even though she was a very busy lady with a 1,000 things to do, she always had time to stop for you and talk. She just made you feel important and cared about you."
Ostermeier is currently the ISU assistant director of new student orientation and student involvement.
"She was an amazing woman and she is one of the main reasons I'm doing the type of work I do," Ostermeier said.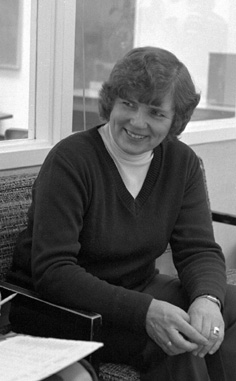 Anderson, who was 71 at the time of her death, spent the last nine years of her career at ISU as dean of student affairs, when she was one of ISU's four senior administrators. In that position, she administered the Student Affairs Office, Academic Skills Center, Student Health Services, Counseling and Testing Services, Career Development Center, University Housing, Pond Student Union, Early Learning Center, Campus Recreation and Intramurals, Continuing Education & Conferences, Center for Students with Disabilities, International Student Advising, Study Abroad, International Student Advisor, Career Development Center, TRIO Student Services and the Associated Students of Idaho State University.
She supervised more than 200 employees, counseled thousands of students, and advised hundreds of student leaders. She spent countless hours at campus activities to show her support of the ISU students.
Anderson was a 1958 honors graduate of the University of Wisconsin, and earned her master's in counseling in 1965 and doctorate in counselor education in 1967, both from the University of Wyoming. She came to ISU in 1967 to be a counselor and assistant professor of counselor education, and was attracted to ISU and Pocatello because she liked the people who she met on her job interview. An avid skier, she also wanted to be near the mountains.
Anderson served ISU in the following capacities:
• 1967-77, counselor
• 1967-98, professor, department of counselor education
• 1978-89, director, Counseling and Testing Center
• 1985-89, director, Center for Health and Counseling Services
• 1989-90, interim dean of student affairs
• 1990-98, dean of student affairs
• 1996-97, interim dean of the College of Education, while remaining as dean of students
Through her tireless professional and volunteer work, she has amassed a myriad of honors. In 1986, she received the Women Helping Women Award from Soroptimist International; in 1990, the Association of Counselor Education and Supervision presented her with the National Distinguished Mentor Award; in 1992, the Associated Students of Idaho State University gave her their Award of Appreciation; in 1995, she was honored as Woman of the Year at the Annual Women's History Month Women of Achievement Luncheon sponsored by Zonta, and was the grand marshall of ISU homecoming parade. The year she retired Anderson received the 1998 ISU Achievement Award, which recognizes personal actions, generosity and self-sacrifice on behalf of the university by a faculty or staff member.
After her retirement, Anderson continued to support the programs and activities of the gender center and underwrote The Art of Gender conference during Women's History Month each year.
Upon moving to the Newport, Wash., in 1998, Anderson became the vice chairwoman for the Pend Oreille Democratic Party and served as the chairwoman for three years. For about five years, Anderson served as a commissioner for the Sacheen Lake Sewer and Water District after working as the managing secretary for the district.
Anderson was survived by cousins Bob Fusek of Wausaukee, Wis., and Carol Smul, Audrey Paules, Leonard Fehrer and Deanna Smul, all of Milwaukee. Anderson is also survived by Karen Averitt, Ann Havlicak and numerous friends.
Memorial contributions may be made to the Janet C. Anderson Gender Resource Center (www.isu.edu/andersoncenter) through the ISU Foundation at http://www.isu.edu/alumni/foundation/gift.shtml; or The Leukemia and Lymphoma Society (www.leukemia-lymphoma.org/hm_lls).
Sherman-Knapp Funeral Home in Newport, WA is in charge of arrangements.
---
Categories: