Choirs from around the world to perform at ISU this summer
February 7, 2008
ISU Marketing and Communications
Choirs from Romania, Brazil, Algeria and the Philippines are among those that will perform at the 2008 Idaho International Choir Festival hosted by Idaho State University in Pocatello. This year's festival will run from Wednesday, July 16th through Saturday, July 19th. Also participating will be choirs from Lithuania, Taiwan and the United States.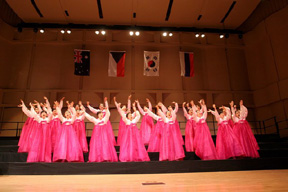 Festival Executive Director and co-founder, Vernae Buck, says it's hard to imagine having a better festival than the one held in 2006, but she's got a feeling it just might happen, "We've already received commitments from four university choirs from around the world, and when you consider we'll have a very unique performing group from Algiers and a fabulous children's choir from Taiwan, you can't go wrong! One of the things I'm also excited about this year is the scheduled appearance of the Native American Yellowface Singers from the Mandan, Hidatsa and Arikara Nation on the Fort Berthold Indian Reservation in North Dakota!" Choirs from Spain and China have also been invited.
Festival co-chair Paul Link points out it's a group effort, "We are greatly indebted to our primary sponsors; Idaho State University, the City of Pocatello, the Idaho Commission on the Arts, and the three Rotary Clubs of Pocatello. In addition, the Festival relies on support of local businesses, who receive recognition in the Festival program."
Arlo Luke, also a co-chair, says there's always room for more support, "We're constantly scanning the horizon for businesses, organizations and individuals that are looking for a way to make Idaho an even greater place, and for a way to become part of what is becoming one of the finest music and cultural events in the entire western United States."
Festival organizers are already looking for volunteers and sponsors to help with all aspects of the biennial event. Individuals or groups that would like to volunteer their services for the four-day event can go online to the festival web site at www.idahointerchoralfest.org. Help is needed in many different areas, from housing to transportation. Local residents who speak the native languages of the visiting choirs are also encouraged to volunteer as translators. Anyone with questions about the festival may submit them by email through the festival web site.
For more information, contact oublicity chair, Jerry Miller, at (208)282-2688, or milljerr@isu.edu.
---
Categories: