Chinese New Year Festival scheduled Feb. 2
January 25, 2008
ISU Marketing and Communications
The Idaho State University Chinese Students Association (CSA) will present the Year of the Rat 2008 Chinese New Year Festival starting at 6 p.m. Saturday, Feb. 2, in the ISU Pond Student Union Building Ballroom.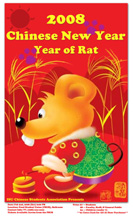 The festival features an eight-course Chinese meal and a variety of traditional and contemporary cultural demonstrations. Entertainment includes a Lion Dance, traditional Chinese dance, a violin performance, children performing on waist drums, vocal performances, a fashion show and much more.
Among the dishes to be served are Tang Dynasty-style beef with fresh potato, "Palace" chicken, traditional Chinese-style oyster sauce with broccoli, lemon-spiced-salt fragrant roast chicken, sweet-and-sour spring roll, top-soup Yang-Zhou delight fried rice, signature Han Dynasty-style sweet-and-sour chicken and steamed rice. Water, lemonade and fortune cookies will also be served.
The Chinese Lunar New Year, or Spring Festival, is by far the most important festival in Chinese society, comparable to Christmas in the West. The festival starts with the new moon on the first day of the New Year and ends on the full moon 15 days later. It is celebrated by more than one-fifth of the world's population.
Tickets purchased in advance are $8 for the general public, ISU faculty and ISU staff; $7 for students, and $4 for children under 7. Tickets purchased at the door cost $1 more. Food is limited, and advance ticket purchase is recommended since this is a popular event that often sells out. Tickets are on sale in the PSUB Lobby and in front of the Bengal Book Store on weekdays and will be available at the door.
For more information, contact Clark Huang, vice president of the ISU Chinese Student Association, (208) 240-3052 or huanyung@isu.edu.
---
Categories: