Cheryl Huntsman Jensen, major ISU benefactor, remembered for her generosity
June 5, 2008
ISU Marketing and Communications
Cheryl Huntsman Jensen, a major Idaho State University benefactor, is being remembered at ISU for the generosity that she and her husband, alumnus and Pocatello native Joseph C. Jensen, have long shown toward the university and the performing arts.
Cheryl Jensen died Tuesday, June 3, at New York City's Calvary Hospital after a long struggle with breast cancer. The Jensens, New York residents, are the namesakes of the grand concert hall that is the largest performance venue in the university's L. E. and Thelma E. Stephens Performing Arts Center.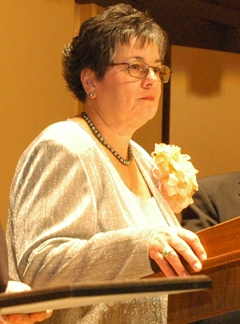 Funeral services are scheduled Saturday, June 14, in New York City, and Thursday, June 12, in Enterprise, Utah, Cheryl Jensen's hometown. She was a native of Cedar City, Utah, who graduated from Dixie State College in St. George. She will be interred at St. George.
"Cheryl Jensen understood and appreciated the importance of great music in people's lives and in the cultural life of Idaho," said University President Arthur C. Vailas, Ph.D. "Idaho State University is immeasurably grateful for and proud of the Jensens' philanthropy, vision and commitment to ISU and southeastern Idaho."
Joseph Jensen said his wife was "thrilled" with the concert hall named in their honor, and was pleased to strongly support it. She was especially moved by the June 2005 performance in the hall by the world-renowned Mormon Tabernacle Choir.
Jensen said he and his wife had often remarked on the hall as "a blessing" to them as well as to the community, region and lovers of fine music everywhere.
"Cheryl Jensen was a true friend of Idaho State University and southeastern Idaho," said ISU Vice President for Advancement Kent Tingey, D.A. "She and Joe have a special place in our hearts, and we feel the loss deeply. We are so proud that her name is part of Idaho State University."
She married Joseph Jensen in St George, Utah, on Nov. 21, 1964. The couple subsequently moved to Pocatello, where she supported Joe as he studied at Idaho State University and graduate school at Dartmouth College in New Hampshire.
Their time in New Hampshire led to her lifelong love of New England. That culminated in building her a home in Maine. Sitting on the porch in the summer in Maine, surrounded by her grandchildren, with loons on the lake and surrounded by the beauty of nature, was her idea of heaven on Earth.
After getting their start in New York, her husband's career took them on what turned out to be an "extended tour" of Europe and Asia. It started in London with a toddler (Nicole) and baby (Michael), then on to Brussels, Belgium, and Lisbon, Portugal, where their children Leslie and Stephanie were born. They then moved to Aix-en-Provence, France; Bombay, India; and back to Brussels. Finally, after 27 years abroad, they moved to New York City.
In addition to her husband, she leaves four children: Nicole (Richard) Hunter of Maryland; Dr. Michael (Miki) Jensen of New York; Leslie (Josh) Leukhardt of Hawaii; and Stephanie (Brandon) Olson of Oklahoma. She also leaves her father, Leland Huntsman; three sisters; two brothers; many nieces and nephews; and eight–and-a-half grandchildren.
A memorial concert and event is being planned in the concert hall this fall in Jensen's memory. The university community also is planning a memorial garden on the grounds of the Stephens Center in her honor as well.
Gifts in her honor may be made to the Foundation for Indian Development, P.O. Box 1395, Provo, UT, 84603; or to the ISU Foundation, either online at isu.edu/gift or at 921 S. 8th Ave., Stop 8050, Pocatello, ID 83209.
---
Categories: