Chanticleer male choral group to perform April 30 at Stephens Center
April 22, 2008
ISU Marketing and Communications
Idaho State University will host the male choral group Chanticleer at 7:30 p.m. April 30 in the Joseph C. and Cheryl H. Jensen Grand Concert Hall in the L.E. and Thelma E. Stephens Performing Arts Center.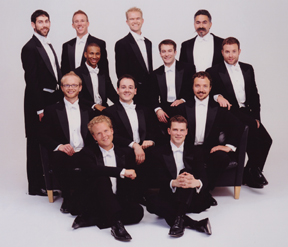 Chanticleer, called "the world's reigning male chorus" by the New Yorker magazine, is a San Francisco-based male vocal ensemble that is celebrating 30 years of touring. They are composed of a seamless blend of 12 male voices ranging from countertenor to bass. The group is known for it's vivid interpretations of vocal literature.
On their tour they will perform a program called "My Spirit Sang All Day," which will include audience favorites by Byrd, Palestrina, Mahler among others. This concert is suitable for audiences of all levels of musical sophistication for Chanticleer often speaks to the audience, giving a personal touch to the concert.
The Cleveland Plain-Dealer states, "Like players in the most refined string quartet, they are communal masters of balance, blend, pitch and phrasing. To my ears, Chanticleer comes as close to that impossible concept called perfection as is humanly possible."
Tickets are available online, in person at the Stephens Performing Arts Box Office, or call (208) 282-3595 during regular business hours. Orders placed online or over the phone can be made using a Visa or MasterCard. Cost per seat is $28 for Main floor seating and $24 for Balcony. All seats are reserved. All sales are final and there are no refunds or exchanges. For more information visit www.chantileer.org.
---
Categories: