Chamber Choir to tour Peru in May
May 16, 2008
ISU Marketing and Communications
The Idaho State University Chamber Choir will embark on a performance tour to Peru from May 20-31.
Scott E. Anderson, D.M.A., ISU director of choral activities, will lead the Chamber Choir as they perform six concerts in Lima, Arequipa and Cusco, the former capital of the Inca empire.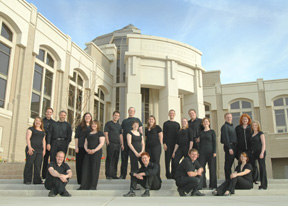 The Chamber Choir will present a wide variety of primarily American music including folksongs, sacred pieces, and spirituals.They will share concerts with the Coro Femenino de la Universidad Católica and the Coro de las Unversidad Católica de Santa Maria while in Peru.
The ISU Chamber Choir members include Kristen Allford, Mark Anderson, Brett Barker, Von Bringhurst, ISU graduate Abbi Clark, Evan Heath, Emily Johnson, Jared Johnson, Jeremiah Judy, Ryan Lambe, Brittany Miller, Tammy Miller, Katie Morgan, Tiffany Nielsen, Nanette Nielson, Crystal Roskelley, Rachel Sampson, graduate student Bret Scherer and Bruce Wilson.
Abbi Clark also serves as pianist for the choir, while Jon Treasure will serve as recording engineer during the tour.
---
Categories: