Biological sciences professor Smith honored with Bigelow Award
May 16, 2008
ISU Marketing and Communications
The Idaho State University chapter of Sigma Xi, the Scientific Research Society, has honored ISU biological sciences associate professor Rosemary Smith, Ph.D., the 2008 Jerome Bigelow Award.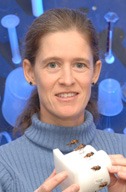 The Bigelow Award for outstanding service to scientific research is presented to a scientist or engineer who embodies Sigma Xi's mission in science and engineering education, research ethics, public understanding of science, international research cooperation and the health of the research enterprise. The Bigelow Award is named in honor of Jerome Bigelow, late ISU chemistry professor. Bigelow was one of the founding members of the ISU chapter of Sigma Xi, and was a dedicated Chemistry researcher and outstanding educator. The award was presented to Smith at Sigma Xi's spring banquet.
Smith joined ISU in 1999. She was promoted to associate professor in 2001, and tenured in 2004. Previous to that she taught for eight years at Nebraska Wesleyan University in Lincoln, Neb., where she received tenure and was promoted to associate professor in 1997.
Her research is in two areas: behavioral ecology and science education. For her undergraduate research at Pomona College in California, she studied optimal foraging in barn owls.
For her Master of Science degree in biology at the University of Arizona, she examined anti-predator behavior and foraging behavior and the coexistence of desert rodents.
For her Ph.D., which she also earned at University of Arizona, she tested a trade-off model of species coexistence among a group of ground-dwelling squirrels as well as the evolutionary origins of sociality and anti-predator behaviors.
Currently, the focus of Smith's biological research is on the behavior, ecology and evolution of burying beetles, which she conducts at the Rocky Mountain Biological Laboratory in Colorado.
Smith has always combined research with teaching. For example, she teaches field courses at the RMBL while conducting her own field research. In doing so, she has mentored numerous graduate students and dozens of undergraduates in their own field research projects — starting many young men and women on their paths to becoming scientists.
She is also active in biology education research, in which she studies the effectiveness of a variety of teaching methods, including methods to enhance teacher training and inquiry-based activities. It is her work in training the next generation of biology educators that she receives the most recognition.
As director of ISU's National Science Foundation Graduate Teaching Fellows in K-12 Education (GK-12) program, she has provided leadership for a partnership between ISU, local industry and local K-12 schools that is improving science education in southeast Idaho by involving K-12 students in locally relevant science and engineering activities. Since 2004, this unique partnership has provided outstanding opportunities for more than 3,000 local K-12 students, as well as more than 30 ISU graduate students and K-12 teachers.
Some of these high school students have chosen to go to college and explore careers in science and engineering because of the mentoring provided by their ISU GK-12 fellow. The program also instills a sense of responsibility in the grad students, teaching them the value of reaching out to the public as an integral part of their own careers.
"The GK-12 program and Smith's other activities embody Sigma Xi's mission to enhance understanding by the public about who scientists and engineers are and what they do," said Michael Thomas, Ph.D., ISU Sigma Xi Chapter president. "Through these activities, Smith creates opportunities for the next generation of scientists and engineers and inspires us, as scientists and engineers, to realize the importance of their role in society."
---
Categories: