Bengal Dancers place high in Florida competition; head to Las Vegas Feb. 10-11
February 4, 2008
ISU Marketing and Communications
it was their first time competing in the Universal Dance Association (UDA) Collegiate Championship in Florida, the Idaho State University Bengal Dancers brought home an impressive third-place trophy in the jazz division and a 10th-place finish in the hip hop division.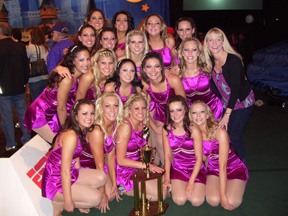 The competition was held late January in a little place where dreams are known for coming true, Disney World in Orlando, Fla.
The Bengal Dancers dreams were helped brought to life by coach Hilary Hofmaier, who is assisted by Lindsay Tucker. Hofmaier returned to this magical place to judge UDA High School Nationals Feb. 1-3.
The Bengal Dancers will face their next competition in Las Vegas on Feb. 10 and 11 at the United Spirit Association (USA) Collegiate Dance Championship where they will be defending their title of 2007 USA Hip Hop Champions.
The Bengal Dances will hold a spring concert and fundraiser at Frazier Auditorium on Friday, April 4, and Saturday, April 5. Tickets prices for this event are $5 at the door.
Tryouts for the 2008-09 Bengal Dancers are set for April 19 from 9 a.m. to 6 p.m. For a tryout brochure, contact Hofmaier by phone at 282-4547, or e-mail hofmhila@isu.edu.
---
Categories: