Astrogeologist to give presentation on Mars rovers at University Place in Idaho Falls
April 18, 2008
ISU Marketing and Communications
Dr. James W. Rice, Jr., an astrogeologist from Arizona State University's School of Earth and Space Exploration, who will give a free public lecture "The Odyssey of the Mars Rovers" at 3:30 p.m. Wednesday, April 23, in the Tingey Administration Building Auditorium, Room 200, at University Place in Idaho Falls.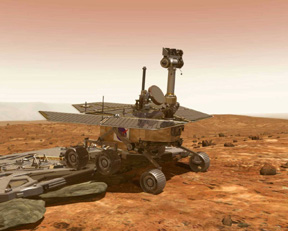 His visit and lecture are sponsored by the Idaho Museum of Natural History and the ISU Department of Geosciences.
Rice is a science team member for the Mars Exploration Rover Project, and is in the selection pool for astronaut training. His talk will cover the Mars mission, especially the rovers, and the next step in human exploration of the solar system.
Rice will also spend time with the Department of Geosciences to learn about research currently being conducted in planetary geology. He will also work with the department to explore ideas for collaborating with other planetary scientists to create a new academic program in planetary geology at ISU.
For more information about Dr. Rice's visit, please contact the Department of Geosciences at 208-282-3235 or geology@isu.edu.
The Idaho Museum of Natural History is located on the campus of Idaho State University at the intersection of 5th Avenue and Dillon Street in Building #12. The gallery is open Tuesday through Saturday from 10:00 a.m. to 5:00 p.m.
---
Categories: