Askey selected as new Idaho State University Rodeo Club advisor
May 8, 2008
ISU Marketing and Communications
Angela Askey, community relations specialist at Idaho State University's College of Technology, has been selected as the new Idaho State University rodeo team advisor. Askey will replace Brian Hetrick, who recently retired from his role as the rodeo team advisor after 18 years.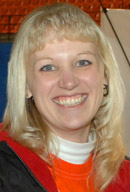 "I would like to commend Brian for his years of service to the rodeo club and for all the things he did to hold the club together during difficult times and for all of the championship- caliber members he recruited to ISU," said James H. Yizar, Jr., interim associate dean of students. "We are thankful to Brian for a job well done and for his many years of dedication to the team."
As the club's new advisor, Askey will provide leadership to the ISU rodeo team. Her responsibilities will include recruiting team members and providing development opportunities for team participants. She will also work to promote ISU rodeo team members and team activities. One of Askey's major goals, as advisor, is to strengthen the connection of the team with other club sports on campus and within the community.
Askey moved to Pocatello eight years ago and has worked for more than four years at ISU. She is active with the Pocatello Frontier Rodeo Association, which oversees the planning and organization of the Dodge National Circuit Finals Rodeo. In 2003, she was elected to the DNCFR board of directors and served as marketing director for four years, and was responsible for securing sponsorships.
In 2008, Askey was elected as the vice president of finance and public relations for DNCFR and served as the marketing director for the Intermountain Pro Rodeo Association. She has worked closely with Dodge Rodeo representatives and the Professional Rodeo Cowboy's Association, while on the DNCFR committee.
"We are excited that Angela has accepted the advisor position for the rodeo club and look forward to her guidance and leadership to the club members," Yizar said. "I believe Angela brings to the position valuable contacts and a well thought out plan to assist the club members in reaching their goals of qualifying and participating in the college national championships."
For more information, contact Askey at 282-3216.
---
Categories: