Sculptor, visiting artist display begins Sept. 23 at Davis Gallery
September 21, 2008
ISU Marketing and Communications
Idaho State University's John B. Davis Gallery in the Fine Arts Building will feature the work of sculptor and visiting artist, Bryan Park, from Tuesday, Sept. 23, through Friday, Oct. 10.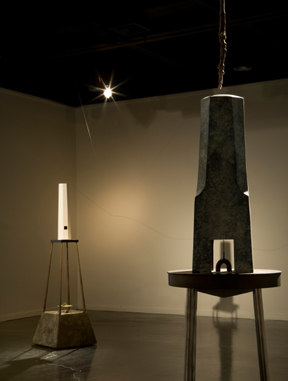 The exhibition, "Where We Are," will begin with an opening reception Monday, Sept. 22, from 6 to 8 p.m. in the Davis Gallery and can be viewed during normal gallery hours, Monday through Friday, from 10 a.m. to 4 p.m.
Park is a metalsmith and sculptor originally from Greenville, S.C. Over the past decade, Park has exhibited his work in more than 30 group and solo exhibitions across the United States. Park was recently hired as a visiting artist at ISU and is excited to be in Pocatello, teaching and exploring the meanings of his new place.
There is no admission charge for this event. This exhibition is partially sponsored by U.S. Bank in conjunction with the Connie Smith Bowen Art Series at ISU.
For more information, contact Amy Jo Popa at 221-8239.
---
Categories: