ISU's Urfer honored by Idaho Physical Therapy Association
October 29, 2008
ISU Marketing and Communications
Idaho State University professor Alex Urfer, Ph.D., chair of the department of physical and occupational therapy has been honored with the 2008 J. Perry Silver Award.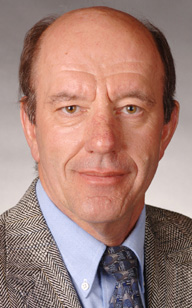 The Idaho Physical Therapy Association bestows this award for outstanding achievements and contributions in physical therapy for the state of Idaho.
In their nominations of him for the award, Urfer's colleagues said they believe he exemplifies a person who clearly places patients' needs and the profession above all, as stated by Jan Yingst, MPT, President IPTA.
Urfer has significantly contributed to the growth, development and level of excellence of physical therapy practice in Idaho. He has been a vocal advocate at several levels from students to legislators, according to Yingst. Urfer has shown exemplary performance in administration, teaching, research and clinical practice.
Urfer was honored at the IPTA 2008 Award Banquet in Boise in October.
---
Categories: