ISU's Stoll named NAOSMM Manager of the Year
August 26, 2008
ISU Marketing and Communications
The National Association of Scientific Materials Managers (NAOSMM) has named Mary Ann Stoll, lab materials supervisor for the Idaho State University biological sciences department, Manager of the Year.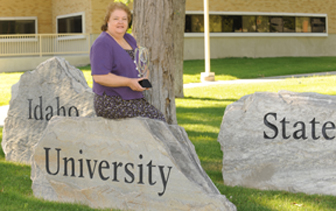 Stoll, who received a plaque and Frabel glass sculpture from NAOSMM, joined the association in 1987 and has attended all the organization's annual conferences but one since joining. She has served the organization in several capacities since joining, including serving on its program, hospitality, Internet and host committees and as program and hospitality chair. She also has been on the organization's Newsline staff, been its historian and will be hosting the NAOSMM 2009 conference in Boise.
The organization certifies scientific materials managers and Stoll received certification in 1994 and was awarded lifetime certification in 1997.
NAOSMM has had several other members from ISU. Shirley Buchli received this same award in 1992. Mark Cherry in chemistry is presently a member and attended the 2007 conference.
"Mary Ann is the linchpin holding our teaching and research capabilities together in biological sciences," said Terry Bowyer, Ph.D., ISU biological sciences department chair. "Our research excellence relies, in part, on her considerable abilities."
NAOSMM is a nonprofit, tax-exempt organization of stockroom managers and supervisors. Other titles include research stores manager, storekeeper, scientific supplies manager, director of scientific stores, storeroom supervisor or supervisor of stockrooms.
Whatever their titles, all members are involved in the purchase and supply of all kinds of scientific chemicals and scientific apparatus in a wide variety of institutions throughout the United States, including large multi-campus state institutions, small private colleges, and pharmaceutical companies, in addition to associate members of national manufacturing companies and local and national scientific supply companies.
The organization provides a source of information exchange through member contacts, as well as through an annual meeting that is held each summer. The organization's seminars and workshops assist in other related matters to upgrade the profession.
---
Categories: