ISU's Hansen named 'Environmentalist of the Year for Latin America'
September 25, 2008
ISU Marketing and Communications
"Latin Trade," a leading international business magazine focusing on Latin America and the Caribbean, has named Idaho State University's Richard Hansen, Ph.D., "Environmentalist of the Year for Latin America."
Hansen is the director of the Mirador Basin Project in Guatemala and is the chief senior scientist for the Idaho State University Institute of Mesoamerican Research, in the anthropology department.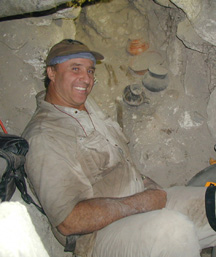 The ISU researcher was one of nine individual winners recognized by "Latin Trade" in its 14th annual Latin Trade Bravo Business Awards program. He was named a winner in mid September. He will be honored at a ceremony in Miami on Oct. 24, in an event that is widely acknowledged as the "Oscars" of Latin American business.
"It is indeed an honor to be selected for this award," Hansen said, "primarily because, I suppose, it is a bit unusual that an anthropologist could have such an environmental impact."
"It also is a privilege," Hansen continued, "to be included among previous Latin American Trade winners such as Carlos Slim (one of the wealthiest men in the world), Michael Dell (Dell Computers), Craig Herkert (Wal-Mart Americas), George Soros (Soros Fund), and Robert Crandall (American Airlines) as well as other extremely distinguished personalities and business figures of world acclaim."
Among his other titles, Hansen is president of the Foundation for Anthropological Studies and Environmental Science (FARES). The non-profit organization is dedicated to the preservation and scientific exploration of the ancient cultures and environment of Guatemala's Peten rainforest.
This area is referred to as "the cradle of Maya civilization" because of the region's importance in the early preclassic development and foundation of Maya society.
Hansen, a lifelong resident of Rupert, Idaho, joined the ISU anthropology department in fall 2004. He teaches classes on Maya and Mesoamerican civilizations.
He regularly takes groups of ISU students to Guatemala for summer field classes to help excavate the ruins in the Mirador Basin of northern Guatemala, including El Mirador, an ancient, 15-square-mile Maya city, which ranks among the largest in the Western Hemisphere.
Hansen has dedicated his life to the scientific exploration, conservation and permanent protection of the Mirador Basin, which has also involved community development and education programs.
The Mirador Basin's 810,000 acres contains five distinct types of tropical forests, abundant wildlife, and the oldest and most monumental examples of the earliest Maya cities from about 1000 B.C. to about A.D. 150, an era known as the Preclassic periods.
The ISU researcher has received numerous awards for his work. He has been featured on a number of national and international television programs, and has been written about in the national and international media.
"Latin Trade" has more than 160,000 readers worldwide. Business, political and social leaders were nominated by its readers. Winners were selected by the magazine's editors in consultation with leading international experts.
"The 2008 winners share a commitment to excellence and proven leadership in times of great change," said Mike Zellner, editorial director of "Latin Trade."
During 2007, TV, print and online promotion and coverage generated an audience of more than 91 million people worldwide for the "Latin Trade Bravo Business Awards," which are sponsored by the InterContinental Hotels Group, Citi and BMW.
More than 300 leaders from Latin America and the United States, including presidents, government ministers, CEOs of multinational and Latin American companies and financial institutions are expected to attend the "Latin Trade Bravo Business Awards."
The 2008 Latin Trade Bravo winners in the other eight categories to be honored at the prestigious LT Bravo Business Awards ceremony are:
• Álvaro Uribe Vélez, President of Colombia, "Leader of the Year";
• Rubén Blades, Minister of Tourism of Panama, "Most Innovative Leader";
• Henrique de Campos Meirelles, Governor, Central Bank of Brazil, "Financier of the Year";
• Enrique Cueto Plaza, CEO, LAN Airlines, "CEO of the Year";
• Subramaniam Ramadorai, CEO, Tata Consultancy Services, "International CEO of the Year";
• Luis Fernando Santos, President, Casa Editorial El Tiempo, "Most Dynamic CEO of the Year";
• Marcelo Argüelles, Chairman, Grupo de Empresas Farmacéuticas Sidus, Technology Leader of the Year"; and
• Vivian Pellas, Executive Director, Asociación Pro Niños Quemados de Nicaragua, "Humanitarian of the Year."
For more information about the Bravo awards, visit www.ltbravo.com.
For more information about Hansen and the Mirador Basin Project, visit www.miradorbasin.com, www.fares-foundation.org or www.isu.edu/anthro or call (208) 282-2629.
---
Categories: