ISU seniors' artwork displayed in final 2008 Davis Gallery exhibit
November 26, 2008
ISU Marketing and Communications
The Idaho State University Department of Art and Architecture fall Senior Exhibition featuring the work of four artists is scheduled Dec. 2 – 12 in the John B. Davis Gallery in the ISU Fine Arts Building.
An opening reception for the artists will be held Monday, Dec. 1, from 6 to 8 p.m.
This exhibition will feature artists Sandra L. Holbrook, HeatherAngel V. Patty, Ashley M. Tigert and Joseph L. Westre.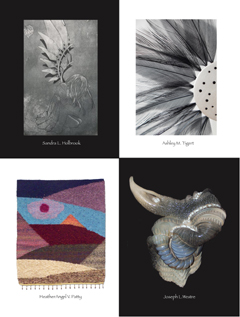 • Holbrook is studying for her Bachelor of Arts degree at Idaho State University. Holbrook graduated from Skyline High School in Idaho Falls and currently resides in Pocatello. Her main interests are ceramics and printmaking, but she also enjoys painting, drawing and jewelry making.
• Patty was born in Orange, Calif. and moved to Pocatello in 1980. Patty graduated from high school in 1992, and enrolled at ISU in the fall of 1997. Patty is studying for her Bachelor of Fine Arts degree. Her primary medium is textiles, but she also likes watercolors and prints.
• Tigert graduated from Pocatello High School in 1999. Tigert is pursuing a Bachelor of Fine Arts degree with an emphasis in metals. She plans to make a career as a studio artist designing and creating jewelry. Tigert works primarily in sterling silver and enjoys combining metal with a wide range of materials including feathers, stones, acrylic and fabric to create unique, wearable pieces of art.
• Westre grew up in Grace and presently lives in Pocatello where he is working to attain a Bachelor of Fine Arts degree with an emphasis in ceramics. Westre also likes working with paper to create sculptures.
The John B. Davis gallery hours are Monday through Friday from 10 a.m. to 4 p.m. For more information contact Amy Jo Popa at 282-3341.
---
Categories: