ISU seeks anatomical gifts for health education classes
December 8, 2008
ISU Marketing and Communications
The Idaho State University Anatomical Donation Program is seeking anatomical gifts to support its health professions mission. Anatomical donations provide essential hands-on experience and training to students in a variety of health-related fields.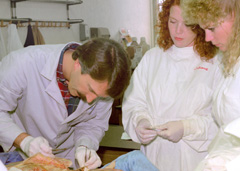 "The anatomy lab affords unique and critical educational experiences for professional students," said Jeff Meldrum Ph.D., director of the Anatomical Donation Program. "It provides knowledge not only of the names of structures, but also the texture, shape, and positional relationships of organs and tissues within the human body."
The anatomy lab will also be a key element in the proposal for offering the medical degree at ISU, according to Meldrum.
As out-of-state sources of cadavers diminish, ISU relies entirely on local donations within a 200-mile radius of Pocatello. Many see anatomical donation as a means to make a final lasting contribution to their community, supporting the education of future health practitioners. Anatomical donation is also an economical alternative to traditional funeral and burial services. The university assumes all costs from the point of receipt of the body, including: transportation, embalming, storage, and, if desired, return of cremated remains.
For further information visit the Web page at http://www.isu.edu/bios/anatdon.shtml, or telephone 208-282-4150.
---
Categories: