ISU breaks ground for $7 million, 32,000-foot expansion of Student Recreation Center
November 20, 2008
ISU Marketing and Communications
Officials and guests broke ground on Thursday, Nov. 20, marking the start of construction of the new $7 million, 32,000-foot expansion of the Student Recreation Center at Reed Gymnasium on the Idaho State University Pocatello campus.
"I know students are excited. This has been a very long time in coming," said Matt Spencer, Associated Students of ISU President. "This will be an excellent addition to Idaho State University."
ASISU student fees fund the project.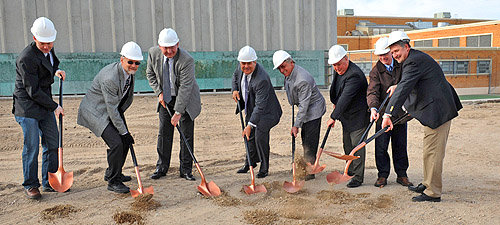 "I am proud to be here to kick off this moment in Idaho State University history, to commemorate the ability and will of our students who had the vision to provide this facility," said ISU President Arthur C. Vailas. "This is a great gift the students are providing that we can all benefit from. I want to thank them for the vision and commitment of creating this first-class facility, and to congratulate them."
Facilities at the new two-story structure will include a large multi-purpose recreation room, free weight areas, machine weight areas, cardio machines and exercise areas, campus recreation offices, bathrooms upstairs and down, a lobby area, lounge areas and an equipment checkout area. New exercise equipment will also be purchased.
A two-story, enclosed atrium area will have plenty of windows and it will also create new uses for existing space in Reed Gymnasium. The expansion is taking place on the east side of Reed Gym, and will connect the current indoor tennis facility to Reed Gym.
"This will be an incredible improvement of recreation space for students with great benefits to student life," said Doug Milder, director of ISU campus recreation. "Upon completion, the recreational facilities at ISU will be on par with recreation centers at other state universities."
Construction is expected to last approximately 18 months, with the new expanded facility expected to open by mid- or late spring semester 2010. A construction site will temporarily occupy more than 100 parking spaces in the parking lot on the east side of Reed Gym.
During construction the ISU indoor tennis/racquetball facility will remain open, although use of the easternmost tennis court and the indoor jogging track will be suspended until fall semester 2009. A temporary enclosure wall will be built on the easternmost tennis court.
Two of ISU's six outdoor tennis courts may be open for a portion of the construction period and four will be lost permanently.
Myers/Anderson Architects of Pocatello is the project's architects and Brennan Construction Co. of Pocatello is the construction manager.
---
Categories: