ISU Africa Night 2009 welcomes community on Jan. 17
December 24, 2008
ISU Marketing and Communications
The Idaho State University African Student Association invites the whole community to experience the beautiful and exuberant culture of Africa at ISU Africa Night 2009. It will be held Saturday, Jan. 17, in the Pond Student Union Ballroom.
The annual event will run from 6 to 9 p.m. This year's theme is "Africa the Beautiful. Africa Rising" showcasing the rich traditional and contemporary culture of Africa rarely seen in the media.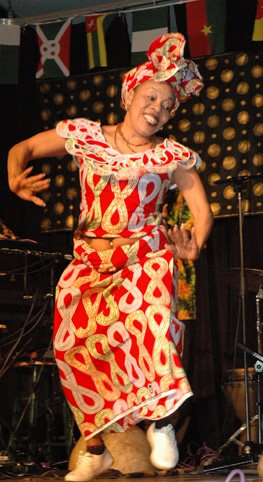 The evening will offer a traditional African dinner featuring specialties from six African countries, a fashion show, a flag show, dances, a band performance, drummers and a variety of African ethnic music featuring a DJ.
Dance to the toe-tapping rhythms of United Roots. This Boise-based band consists of members from Mozambique, Democratic Republic of Congo, Ghana, and Idaho. They play a blend of Afro-pop and reggae.
The dinner will feature mukimo, a Kenyan dish that has mixed greens, potatoes, corn and peas; chapati, a type of bread from Tanzania; peanut butter soup from Ghana; chicken yassa, from Burkino Fasso; beef stew from Ghana; curried cabbage from Zambia; fresh fruit salad from Algeria; and rice.
Beginning Jan. 7, tickets will be sold weekdays at the Pond Student Union from 11 a.m. to 1 p.m. and at the Rendezvous Complex from 11 a.m. to 2 p.m.
Prices for tickets purchased in advance are $6 for ISU students, $7 for ISU faculty and staff and $9 for the general public. Tickets cost $1 more at the door.
The African Students Association is a group of students from Africa and the United States who work to promote awareness of the realities in Africa and to strengthen the diversity of the ISU community.
For more information, contact Winfred Kimeu, at (208) 226-4260 or kimewinf@isu.edu.
---
Categories: