ISU 'A Season of Note' series hosts guitarist, singer Eric Bibb
November 4, 2008
ISU Marketing and Communications
Eric Bibb, an internationally known guitarist and singer famous for his blues, gospel folk and New Orleans R&B roots music, will present a concert at 7:30 p.m. Nov. 20 in the Joseph C. and Cheryl H. Jensen Grand Concert Hall, in the L.E. and Thelma E. Stephens Performing Arts Center.
The concert is part of the Idaho State University 2008-09 "A Season of Note" fine-arts series.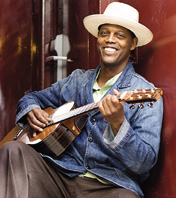 Bibb took home the "Best Newcomer" title in the British Blues Awards and was nominated for nine W.C. Handy Blues Music Awards.
The United Kingdom's "Guitarist" magazine said of Bibb's CD "Diamond Days" that, "The songwriting is superb, the production values are solid, and Bibb's performance is deep. Bibb's genius sparkles in a way that puts him well ahead of his peers."
Bibb's latest CD "Get Onboard" was released in March and features guest appearances by Bonnie Raitt and Ruthie Foster.
"Bibb's voice is a sweet, smoky baritone, and his finger-picking style is understated, coloring the songs rather than adding technical flash," noted a reviewer from the Austin American Statesman referring to "Get Onboard." "The quieter, more reflective aspect of the blues doesn't get a lot of attention, but when Bibb plays, blues and gospel can become one glorious whole."
Tickets are $18 main level, $14 upper level. They can be purchased at the Stephens Performing Arts Center Box Office, online at www.isu.edu/tickets or by calling (208) 282-3595.
---
Categories: