Eight receive top ISU Homecoming awards
October 10, 2008
ISU Marketing and Communications
Idaho State University will honor current and retired faculty and staff, alumni and supporters with awards during 2008 Homecoming.
Recipients will be honored at the President's Alumni Recognition Dinner at 7 p.m. Friday, Oct. 17, at the Red Lion Hotel in Pocatello, 1555 Pocatello Creek Road. A reception at 6 p.m. will precede the dinner. Those wishing to attend should contact the ISU Alumni Office at (208) 282-3755 or e-mail alumni@isu.edu. The cost is $40.
Following are the honorees and their awards:
The Distinguished Alumnus Award recognizes exemplary professional and personal contributions resulting in national or international recognition.
Joseph C. Jensen is the chairman of the Idaho State University Foundation. In 2002 he retired as president of Pfizer's Animal Health Group Europe, Canada and Africa Region. He spent 34 years, including 28 overseas, with Pfizer in a variety of positions. He is a 1966 graduate of Idaho State University, where he earned a Bachelor of Arts degree in French and economics. He went on to earn a Master of Business Administration degree in finance at Dartmouth College in Hanover, N.H.
Jensen and his wife, Cheryl, who died on June 3, raised four children.
Jensen was named to the Board of Directors of the ISU Foundation in 2001. He was named president elect in 2003 and became president of the Foundation and chairman of the Board of Directors in 2005.
During this time he put in considerable effort on fundraising for ISU. He restructured the Board of Directors and brought in a new process for managing ISU Foundation assets. He was part of the first major fundraising campaign at ISU that raised more than $152 million. Along with his wife, Cheryl, he was particularly active in development of the new L.E. and Thelma E. Stephens Performing Arts Center. As a result of their contributions and efforts, the center's grand concert hall was named in their honor. Jensen also served six years as a bishop for The Church of Jesus Christ of Latter-day Saints in New York City.
The William J. Bartz Award recognizes continued support and development of ISU through personal actions, participation in University affairs and financial support.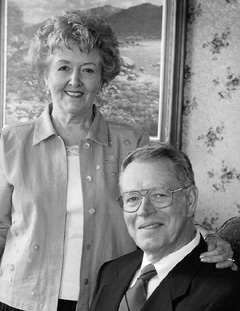 Norman and Beth Hill are longtime residents of Pocatello who have been active in a wide assortment of community groups. Norman and Beth graduated from Hansen High School and moved to Pocatello with no intention of staying.
Norm graduated from the ISU College of Technology in electronics and then worked eight years at Phillips Petroleum before working at Idaho Power for 27 years, retiring in 1996.
Beth worked at Idaho Power for 35 years. She attended evening classes as ISU while employed at Idaho Power.
Both Norman and Beth have been active with the Greater Pocatello Chamber of Commerce and served on its Beautification Council, Local Issues and Legislative Council committees.
In addition, both Hills have been active with the Valley Pride program, Pocatello Zoo, I Love ISU scholarship campaign and the Rotary Club of Pocatello. Norman also is a member of the Bengal Foundation, while Beth is on the Portneuf Medical Center Governing Board.
Both of their sons, Darrel and Galen, graduated from the ISU College of Technology in Electronics. Their grandson, Russel Hill, attends ISU.
The ISU Distinguished Service Award recognizes ISU staff members who have shown exceptional loyalty to the University through an extended period of employment.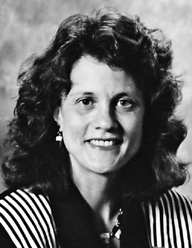 Bessie Katsilometes came from South Dakota as a first-generation college student to attend Idaho State University in 1970. She attained her master's degree in public administration and Bachelor of Arts degree in sociology/social work with high honors.
She has worked at the university for more than 20 years in a variety of administrative positions. She has been dean of academic programs at ISU-Boise since 2006. Other prominent posts she has held include director of Health and Technology at ISU-Boise, chair of the Business and Service Department in the ISU College of Technology and director of the College of Technology Center for New Directions.
Katsilometes represented Idaho as one of three commissioners appointed by Gov. Cecil Andrus to serve a four-year term on the Western Interstate Commission for Higher Education.
Katsilometes served on the Idaho Housing and Finance Association Board of Commissioners and on the Board of Directors for the Housing Company, an IHGA non-profit affiliate that develops and manages affordable housing resources.
She served a two-year term on the Governor's Coordinating Council for Families and Children and has been a director on the Board of Idaho Community Foundation (ICF). She served for 13 years on the ICF's Eastern Region Advisory Panel. She served a term on the Portneuf Regional Medical Center Foundation Board of Directors and has participated in many non-profit organizations.
Katsilometes has been honored with Zonta's "Women of Achievement" award, the Southeast Idaho Community Action Agency's "Stone Soup" Award, and a Pocatello Jaycee Women's "Distinguished Young Woman" Award.
She is a past Athena Recipient, an award given by the Greater Pocatello Chamber of Commerce and the Park Price Motor Company.
The President's Medallion was established in 2001 to honor friends and alumni whose outstanding accomplishments and exemplary service and support bring distinction to the University and advance higher education.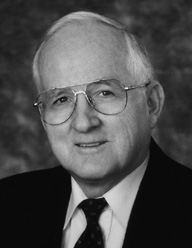 Retired Army Col. Garth H. Holmes, Olympia, Wash., received an Idaho State University 2006 Professional Achievement Award and the ISU College of Pharmacy Professional Achievement Award.
Holmes has long been known for his energy and enthusiasm for life. He has applied those qualities to his community, his country and the profession of pharmacy. At Idaho State University, he is known as a generous supporter of higher education as well.
He received a Bachelor of Science degree in pharmacy from the College of Pharmacy in 1960. He also received a Master of Education degree from Boston University in 1974. His late wife, Dianne, received a Master of Arts in elementary education from ISU in 1961.
When his wife passed away, Holmes established the Dianne W. Holmes Scholarship Endowment at the College of Education. It provides two scholarships for students who demonstrate financial need. Holmes also established a College of Pharmacy endowment that funds an annual scholarship for a first-year student from Idaho who shows financial need.
This legacy is just part of a sense of service that includes Holmes' 34 years of active and reserve Army service. He served with the Medical Reserve Unit (50th General Hospital) during Desert Storm.
He also is highly regarded in Washington, where he was a pharmacy consultant to the state Department Social and Health Services, and worked closely with the executive director of the Washington State Pharmacy Association. He also served as an affiliate instructor for the University of Washington School of Pharmacy. In 1998, the WSPA named him "Pharmacist of the Year."
He is a past member of the ISU Alumni Board and currently serves on the ISU College of Pharmacy Dean's Advisory Board.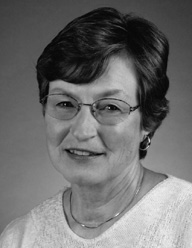 Sylvia J. Papenberg is a Pocatello resident and Idaho State University alumna who made the lead donation to ISU's proposed Bengal Village athletics complex in January. Papenberg's gift of 40 acres of land in eastern Idaho's rapidly growing Teton Valley is the largest single gift in ISU Athletics' history, university officials said.
Sylvia Papenberg is the widow of the late ISU alumnus and Sports Hall of Fame honoree Don "Pappy" Papenberg 1963. He died Jan. 8.
The gift for the Bengal Village complex will help fund Miller Ranch Stadium, which will be the new home of ISU softball.
Sylvia Papenberg, an Idaho native, graduated from Teton High School in Driggs before attending Idaho State University. In 1964 she received a degree in secondary education with a minor in psychology. She was a teacher for several years, and recently retired after more than 20 years in banking. At ISU, she played softball, volleyball and basketball in the university's club and intramural systems prior to women's intercollegiate athletics.
Don Papenberg played football at Idaho State from 1959-60, helping the Bengals to a 12-4 mark overall, and a 1959 Rocky Mountain championship in their last season in the league.
Miller Ranch Stadium will be on the site of football's current South Practice Field. The stadium will be enclosed with bleachers, a full scoreboard, and such amenities as restrooms, a concessions area, storage spaces and a press box.
Homecoming Parade Marshals are ISU faculty, staff or alumni who have made a significant impact on the ISU community and enjoy popularity among their colleagues and students.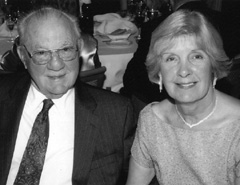 I.J. "Babe" and Tracy Caccia have a long history with ISU.
Babe is the winningest coach in Idaho State University's history in both football and baseball.
In the 14 years from 1952 to 1965, he was head coach of football teams that won 80, lost 38 and tied two, a 67.8 percent win rate. He coached undefeated teams in 1952 and 1957. He coached five Rocky Mountain Conference championship grid teams. His 1963 team won the Big Sky Conference championship the first year of the league's existence.
He was the Bengals' head baseball coach from 1967 to 1974, and posted a 152-116 record.
Caccia also served as a wrestling coach.
Besides coaching, Caccia served 14 years from 1966 to 1979 as assistant athletic director and in March 1979 he became the Bengals' director of athletics. He is a member of the ISU Sports Hall of Fame and the Idaho Hall of Fame.
Caccia was a multi-sport star at Pocatello High, graduating in 1936. He transferred his talents to the University of Idaho Southern Branch, as Idaho State was known at that time. He was a two-year starting center and linebacker for the school's football team and as a wrestler lost only one match in two years.
Caccia also coached at the prep and professional levels, the latter as an offensive line coach for the Canadian Football League Edmonton Eskimos.
Tracy was born in Ireland and after World War II her parents and family moved to London, England, where she attended school. She went on to technical college for three years and later pursued a career in the British Army.
The years in the British Army were her happiest apart from the 34 years she has been married to Babe, Tracy said. Babe and Tracy met in Canada and moved to Pocatello after their marriage in 1974.
---
Categories: