'A Kurt Bestor Christmas' Dec. 17 features renowned violinist Baker
December 2, 2008
ISU Marketing and Communications
"A Kurt Bestor Christmas" returns for a fourth year to Idaho State University at 7:30 p.m. Dec. 17 in the Joseph C. and Cheryl H. Jensen Grand Concert Hall in the L.E. and Thelma E. Stephens Performing Arts Center.
Among musicians accompanying Bestor this year will be acclaimed violinist Jenny Oaks Baker.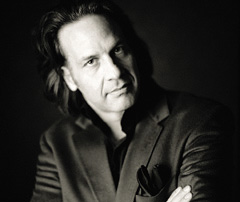 "A Kurt Bestor Christmas" is part of the ISU 2008-09 "A Season of Note" concert series.
This Christmas show captures the spirit of the season with a starry stage, featured musicians and orchestra, as well as Bestor's own playing, conducting and emceeing. He is perhaps best known for his innovative interpretation of seasonal carols on "Kurt Bestor Christmas, Volumes One and Two." Bestor has produced 20 CDs during his career including "The Dance," " Sketches," " Seasons," " Evening Angels," "Noel" and "One Silent Night."
A highlight of the performance will be the violin playing of Baker, one of America's most accomplished classical violinists. For seven years Baker performed as a first violinist in the National Symphony Orchestra before resigning in 2007 to devote more time to her young family. She received her Master of Music degree from the renowned Juilliard School in New York City and earned her bachelor's degree in violin performance from the prestigious Curtis Institute of Music in Philadelphia. Ms. Baker, her husband, and their four children reside outside of Washington D.C.
Baker has performed as a soloist at Carnegie Hall, Lincoln Center and the Library of Congress and as a guest soloist with the Jerusalem Symphony, the San Diego Symphony, the Utah Symphony, the Orchestra at Temple Square and the Mormon Tabernacle Choir. She has released eight albums since 1998, of which 150,000 have sold.
Bestor, for his part, has a very impressive musical background. For more than a decade, Bestor's film scores, television themes, compositions and carols have provided an indelible soundtrack for American life. Indeed, much of Bestor's own life has been dedicated to creating musical parallels to visual images.
The Utah-based composer and performer launched his career writing music for television and movies. His credits include more than 30 film scores and more than 40 themes
for national TV programs and commercials. It is Bestor's music that has introduced "Good Morning America," "NFL Monday Night Football" and ABC's "Sunday Night Movie." He scored TBS's "Wild! Life Adventures" and the IMAX film "Great American West."
He also was given the Outstanding Film Score Award at the New York Film and Television Festival for his music for PBS's "A More Perfect Union." Bestor was awarded an Emmy for his collaboration with Sam Cardon on the original music for ABC's coverage of the 1988 Winter Olympics. Bestor's Web site is www.kurtbestor.com.
Tickets are $36 main level, $32 upper level and can be purchased at the Stephens Performing Arts Center Box Office, open from 10 a.m. to 4:30 p.m. during the school year.
Tickets can also be purchased over the phone at (208) 282-3595 or online at www.isu.edu/tickets.
---
Categories: