'A Christmas Carol' to be performed Dec. 18 at Stephens Center
December 2, 2008
ISU Marketing and Communications
A celebrated version of Charles Dickens' "A Christmas Carol" is coming to the Idaho State University L.E. and Thelma E. Stephens Performing Arts Center at 7:30 p.m. Dec. 18.
The show is part of ISU's "A Season of Note" fine arts series.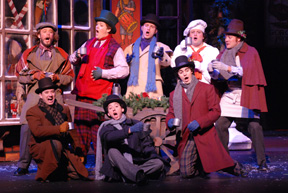 This show, adapted for the stage by Charles Jones of the Omaha Community
Playhouse, will join the holiday celebration in Pocatello when it is presented at the Stephens Center's Joseph C. and Cheryl H. Jensen Grand Concert Hall.
Twenty-eight performers bring Dickens' fable of redemption to life on a magical set created by noted designer James Othuse. A full array of traditional Christmas carols is woven into the classic story of Ebenezer Scrooge. Each carol was chosen for the dramatic atmosphere it contributes to the total evening. The songs themselves are traditional, but musical arrangements courtesy of John Bennett are contemporary.
"A Christmas Carol" remains one of the most powerful and vivid illustrations of the necessity of good will in human conduct. Dickens believed that the ills of a greedy world could be healed by brotherhood and unselfishness. The Nebraska TheatreCaravan brings that principle to life.
Tickets for "A Christmas Carol" are $32 for main level and $28 for upper level and can be purchased at the Stephens Performing Arts Center Box Office or online at www.isu.edu/tickets.
For more information or tickets, contact the Stephens Performing Arts Center Box Office at 282-3595.
'Tis the season!
---
Categories: