Lively physics fest coming to ISU April 21
April 18, 2007
admin
The Idaho State University department of physics and Society of Physics Students will present a science demonstration show complete with interactive exhibits, hovercraft rides and candy shot from a cannon on Saturday, April 21 in Room 140 of the ISU Physical Science Building.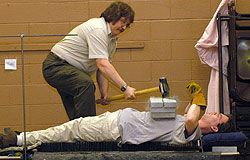 The demonstration show, titled "Electrophying Physics," will be from 5 to 6:30 p.m. and is free of charge and open to the public. It will feature the "Van deGraaf Hair Raiser," "Faraday Can Crusher," "Boiling Green Water Sucker" and other presentations.
Those arriving at the Physical Science Building Foyer from 4 to 5 p.m. can take a ride on a hovercraft and participate in interactive demonstrations. There will be a candy scramble on the ISU Quadrangle just south of the Physical Science Building, which is located on the southwest corner of the Carter Street-Eighth Avenue intersection on the ISU campus.
A small cannon with 60-foot range that has been used in past demo shows and at the Bannock County Fair will deliver the candy.
"Electrophying Physics" and other science demonstration shows are presented at local kindergarten-12th grade schools upon invitation at no charge. Call physics professor Steve Shropshire, PhD, at 282-2212 for additional information.
---
Categories: