ISU researchers study wind erosion: findings may improve air quality
July 18, 2007
ISU Marketing and Communications
Boise/Pocatello – Drive along I-84 or I-15 in southern Idaho on a windy day, when fields are bare, and you can be smacked head on by a cloud of dust so dense it is impossible to see through.
Dust storms caused by wind erosion are part of the high-desert landscape of Idaho. They've led to deadly car crashes on the freeway, damage to rangeland and deterioration of air quality. So what if there were a way to predict wind erosion and ultimately limit the severity of dust storms?
That's the goal of two Idaho State University professors and their graduate students, who were recently awarded a three-year, $360,515 grant from the U.S. Department of Defense to study wind erosion and its effects on the environment.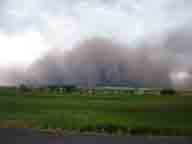 The Defense Department may seem like an unlikely source for such funding, but the military wants answers about wind erosion too. It's a major concern on the battlefields of the Middle East where blowing sand and dust can impede visibility or lead to the transport of bacteria in soil.
"Three out of every four helicopter crashes in Iraq and Afghanistan are caused by helicopter brownout – where the rotors stir up dirt making visibility impossible," says project director and ISU-Boise geosciences associate research professor Nancy Glenn, PhD, who is based at ISU-Boise.
Glenn points out that the semiarid landscape of Southern Idaho is similar to the fragile desert terrain of the Middle East, making Idaho an ideal location to conduct the research. She and her team will use remote-sensing technology – including light-detecting cameras attached to aircraft – to analyze Idaho's soil, vegetation and topography without disturbing the Earth's surface.
"It's like taking a DNA fingerprint of soil or vegetation," the scientist says.
On the ground, colleague and associate ecology professor Matt Germino, PhD, will measure the rate at which soil is lost or re-deposited and why. Is it due to climate, moisture or vegetation cover?
The first area researchers will study is the Crystal Fire area north of American Falls Reservoir.
In three years, Glenn and her team hope to develop a model capable of predicting wind erosion and identifying the speed at which soil particles become airborne – a key to helping soldiers control dust on the battlefield or minimize damage to the landscape during training exercises.
That same model could be used to improve Idaho's air quality, reduce traffic hazards caused by dust storms and assist the Bureau of Land Management with re-vegetation efforts, says Glenn.
For more information, contact Nancy Glenn, 208-345-1994 or e-mail glennanc@isu.edu.
---
Categories: