I~MOVE dance performances to run Feb. 8-10
January 19, 2007
ISU Marketing and Communications
Idaho State University's touring contemporary dance company The Idaho Moving Project (I~MOVE) is scheduled to perform Feb. 8-10 in the James E. and Beverly Rogers Black Box Theatre in the L.E. and Thelma E. Stephens Performing Arts Center.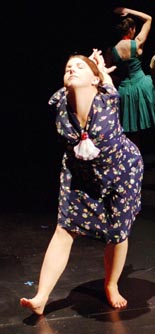 I~MOVE will perform at 7:30 p.m. Feb. 8-10, and will have a 2 p.m. matinee on Feb. 10.
This selective company is under the direction of Melanie Kloetzel, the ISU dance program director, as well as ISU dance faculty Lauralee Zimmerly and newcomer Shawn Bible. The company strives to intrigue with its modern choreography, which includes live music, text and athletic, avant-garde movement.
Kloetzel hails from the East Coast and continues touring with her modern-dance company, kloetzel&co, which was founded in New York in 1997. Zimmerly, a longtime Pocatello resident, has presented work for Kinetikos and for DANSON, ISU's student-dance company. Bible, formally a Michigan resident and the newest addition to the ISU dance faculty, adds to the exciting mix. Bible's company STBdance will debut nationally this spring in Idaho, Michigan, Georgia and Seattle.
For this captivating season of brand new work, I~MOVE also will present choreography by renowned guest artists Clare Byrne from New York and Nora Chipaumire from Zimbabwe.
Tickets are available at the Stephens Performing Arts Center Box Office or by phone at 282-3595. Ticket prices are $12 for adults; $10 for ISU faculty and staff, and seniors; and $5 admission for ISU students. Group rates are available. Seating is limited.
---
Categories: