Global warming's effect on western treelines focus of ISU research
March 26, 2007
ISU Marketing and Communications
Idaho State University assistant professor Matt Germino, PhD, will be trying to determine how global warming is influencing the lower and upper boundaries of forests across a broad swath of the western United States.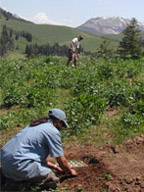 "Our climate is warming; that is no longer ambiguous," Germino says. "Now we have to determine how we're going to deal with it and try to predict how natural resources will change. ISU is leading an effort to understand how the changing climate will influence the distribution of forest at lower and higher elevations. This can have large implications."
Germino has received a three-year, $335,000 research grant from the Department of Energy's National Institute for Climate Change Research Competitive Grant Program. His study is titled "Climatic and biotic co-limitation of conifer establishment at treelines: addressing uncertainty in bio-climatic mode forecasts of forest change."
Germino, the lead principal investigator for the grant, is conducting his study with colleagues Drs. Jeremy Littell, PhD, and Nathan Mantua, PhD, at the University of Washington and Dr. Lisa Graumlich, PhD, at the University of Arizona. They will be studying nine mountain sites from the Front Range in Colorado and Wyoming to the rain-shadow mountains of Washington.
The mountain ranges to be studied include the Zirkel Mountains in northeast Colorado, the Medicine Bow Range in southeast Wyoming, Wind River Range in central Wyoming, Beartooth Mountains in northwest Wyoming and southern Montana, the Teton Range in southeast Idaho and Wyoming, Centennial Mountains in southeast Idaho and Montana, the Wallowa/Eagle Cap Range in northeast Oregon, Goat Rock Mountains in south-central Washington and the North Cascade Mountains in north central Washington.
"We're trying to determine how forest boundaries will change, whether they will move upward in elevation and will new alpine areas become forested," Germino said. "These are very challenging questions."
It is critical to predict the impacts of climate change and the variability of forest to development management practices."Documenting and understanding changes at treeline is particularly interesting because, if projections of future global warming are correct, treelines are likely to be one of the first natural ecosystems to register change in climate," Germino said.
At the upper treeline, some of the major effects of a change in the location and composition of treeline include that it could alter snowpack distribution, provide more fuel for fires and alter the resource base for wildlife. At the lower treeline, Germino said, "changes in fire regime, forest structure and treeline may interact in unpredictable ways to produce large shifts in fuel structure as well as changes to critical habitat for forest-edge species."
---
Categories: