Brower to head Center for New Directions
January 19, 2007
ISU Marketing and Communications
The Idaho State University College of Technology's Center for New Directions (CND) has announced that Christine Brower is its new director.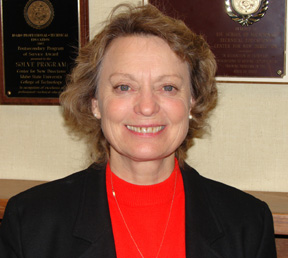 She began her position on Dec. 18 but is not new to ISU or the Pocatello area. Brower is a graduate of Soda Springs High School. Following her high school graduation she left Idaho but returned in 1981. She attended ISU beginning in 1991 as a nontraditional student and in 2000, earned a Bachelor of Science degree in psychology. She continued her education and earned a Master of Public Administration in political science from ISU in 2002. Brower believes in lifelong learning and states, "Age is not a barrier to education."
She is currently pursuing a doctorate in sociology from Utah State University in Logan, Utah. Her research interests include inequality, social problems, gender, community and rural sociology.
Between 2001 and 2003, Brower served as administrator for the CND SOLVE program. The program provided short-term job training for low-income individuals.
"Education has provided great benefits to me as a woman and as a single parent and I promote education for every individual," Brower said. "My passion is to serve the center's clients and with the center counselors and social workers, assist our clients in reaching their education and career goals. Education provides an opportunity to get around social inequalities."
The CND assists College of Technology students who may need additional assistance while in school to complete their program and assists community members who are looking for new directions in employment, training or education. The mission of the center is to assist women and men in transition to become personally and economically self-sufficient and find their chosen path for work and educational success.
Staff at the CND are licensed professional counselors, social workers and College of Education counseling interns who provide career and personal counseling to assist individuals determine where their career interests lie and/or address obstacles to educational and employment success. The Center for New Directions partners with ISU departments including TRiO, counseling and testing, Career Center, Psychology Clinic and counseling. It also partners with agencies such as Idaho Department of Commerce and Labor, Idaho Department of Health and Welfare, Aid for Friends, Road to Recovery and Vocational Rehabilitation.
Brower will promote the center's goals of serving the clients, developing bilingual materials, and increasing public awareness of the center's work in the outreach sites in American Falls, Blackfoot, Fort Hall, Malad, Montpelier, Preston and Soda Springs. The center serves nontraditional students and students who are single parents.
"Education has made a dramatic difference in my life," Brower said. "There is always more to learn. I love the university environment and I am thrilled to be here."
---
Categories: