Rendezvous Complex grand opening set Aug. 30
August 21, 2007
ISU Marketing and Communications
A grand opening ceremony open to the public for Idaho State University's new 255,000-square-foot Rendezvous Complex will be held at 1 p.m. Aug. 30 in the new structure's atrium area.
A tour of the $43.5 million structure will follow the ceremony.
This state-of-the-art facility features more than 50 multi-purpose classrooms, a 120-station computer laboratory, 80 three- and four-bedroom apartment suites housing 301 students, a food court, a convenience store, an art gallery, a "Spirit Shop" selling ISU apparel and more.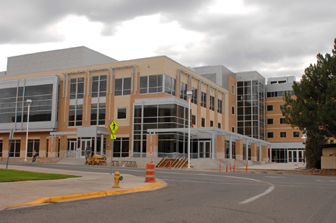 The building is situated across Martin Luther King Jr. Way from ISU's Eli M. Oboler Library. Students will begin moving into the housing units on Wednesday, Aug. 22, when all ISU housing facilities open.
While Rendezvous' various rooms, large and small, get most of the public's attention, the five-story atrium may be the building's showpiece. Windows span the entire width of the east end and half the length of the west end so many plants can receive sunlight.
The building houses the Faculty Senate Offices and has a three-room suite for conferences. The Center for Teaching and Learning also will be located in the building.
Classrooms are all equipped with computerized "smart podiums" used to display information on drop-down projection screens. Classes from all disciplines will be taught at the center. Two of the classrooms are fully equipped computer classrooms with a computer at each desk. The building's 250-seat planetarium will be used as an auditorium until a donor for its approximately $2 million projection system can be found. Some landscaping will be finished later.
The Rendezvous Complex's student apartment suites come with individual bedrooms for occupants and include a shared kitchenette and bathroom facilities. Each room is equipped with a washer, dryer and full-sized refrigerator as well as plenty of storage space.
The Rendezvous Complex is designed to be the center of the University, where many of the University's classes can be taught. Because classrooms will be centralized, this should free up space in existing buildings for faculty offices and laboratories.
---
Categories: