ISU dental-hygiene professor Bowen named 'Distinguished Professional'
September 11, 2007
ISU Marketing and Communications
Denise Bowen, R.DH., M.S., professor in dental hygiene at Idaho State University, recently was honored as a Distinguished Dental Professional by Dentsply International, the largest professional dental products company in the world.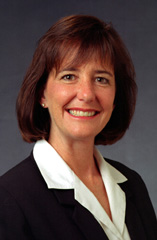 The company has facilities in 22 nations on six continents and distributes products to dental professionals in 100 countries. Dentsply hosted Bowen at its headquarters in York, Penn.
"I am privileged to have been recognized by Dentsply and hope that this interaction with company representatives will lead to future research and development opportunities at Idaho State University," Bowen said.
Bowen joined the dental hygiene department faculty full-time in 1976. She has served as a consultant to the dental industry, as well as numerous government, university and private organizations and presently is a member of the National Advisory Panel for the National Center for Dental Hygiene Research in the U.S.
Her previous appointments include visiting scholar at the National Institute of Dental Research, chair of the American Dental Hygienists' Association Council on Research, and chair of the Research Committee for the Institute for Oral Health. She has received national awards for excellence in dental hygiene and was recognized as Outstanding Researcher at ISU.
"As a former Distinguished Dental Professional recipient, I am excited to see Professor Bowen recognized," said Kathleen Hodges, ISU dental hygiene department chair. "In fact, Idaho State University is the only program with such distinction. Denise is an articulate individual with a national reputation for excellence in dental hygiene."
Professor Bowen has presented at meetings of the American Dental Hygienists' Association, Canadian Dental Hygienists' Association, the American Association of Dental Schools, American Public Health Association, Soviet-American Dental Hygienists' Conferences in Moscow and Leningrad, and the International Symposiums on Dental Hygiene in Canada, China and Costa Rica. She is co-author of "Research Methods for Oral Health Professionals" and has made contributions to several highly regarded texts: "Dental Hygiene Theory and Practice," "Comprehensive Review of Dental Hygiene" and "Concepts in Nonsurgical Periodontal Therapy.
Bowen is widely known through her numerous published articles and her continuing education programs related to nonsurgical periodontal therapy, preventive oral self-care, research methodology and dental hygiene education.
---
Categories: