Formal Investiture Ceremony held for President Vailas
September 14, 2007
ISU Marketing and Communications
Termed "the right man at the right place for the state of Idaho and Idaho State University" by Idaho Gov. C.L. Butch Otter, ISU President Arthur C. Vailas was officially heralded as the institution's 12th president during a formal Investiture Ceremony on Friday, Sept. 14.
Otter was among prominent guests at the ISU Holt Arena who attended the investiture, a formal induction into office. Traditionally, an investiture is held during the new president's first year in office, or at the conclusion of the first year. Investiture symbolizes the bestowing of power to the president when he receives the University medallion. Also attending were representatives from the State Board of Education, government officials, University faculty, students and student officials as well.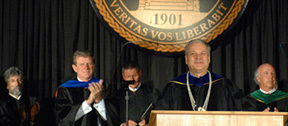 More than 50 representatives from universities from throughout the United States participated in the processional opening the investiture ceremony on Friday and more than 70 university presidents sent formal greetings.
At the investiture, Pocatello physician M.R. "Mick" Mickelson, M.D., acted as master of ceremonies. Also speaking were John Masserini, D.M.A., ISU Faculty Senate Chair; Ray Hart, ISU Staff Council Chair; David Sanna, president of the ISU Alumni Association; and Jennifer Brown, president of the Associated Students of ISU.
Timothy White, Ph.D., President of the University of Idaho, gave inaugural remarks. President Vailas's brother, James Vailas, M.D., recounted the childhood and life he has shared with his oldest brother, President Vailas, and their family. There are five Vailas brothers, sons of Greek immigrants from Manchester, N.H. James Vailas shared details of the family's struggles and triumphs, emphasizing the "high bar" President Vailas set for his younger siblings in everything from sports to academic and career achievements.
A video presentation about Vailas was shown to the audience.
Blake Hall, J.D., Idaho State Board of Education Member, performed the actual investiture ceremony when the ISU President's Medallion was placed around Vailas's neck.
Vailas delivered his vision for the University through a speech, which emphasized the University's logo, "Leading in Opportunity and Innovation."
"We live in a time of great challenges," Vailas said. "We face challenges globally, as nations, as communities and, of course, as individuals. Education is about challenge. It is about how we overcome challenge. In that process we uncover new challenges. It is an amazing cycle and it drives the engine of progress for humankind."
He said ISU must look for more opportunities to partner with the private sector and private individuals. In addition, he emphasized the importance of research to all facets and colleges of the University, and the importance of the state's medical education mission to ISU.
"Perhaps no responsibility is greater at this time for Idaho State University than to lead the state in the education of the health-care professionals," Vailas said. "The primacy of this state-given mission offers incredible prospects for those seeking to understand and care for the well being of people here and everywhere. For nearly a century, Idaho State University has forged a path of medical education in this state."
Vailas also talked about the potential ISU has for being a leader in development of a variety of "low-carbon output" energy sources, including solar, wind, geothermal, biofuel, hydropower and nuclear.
The ISU Symphonic Band, conducted by Patrick Brooks, Ph.D., ISU director of bands, performed music for the event's processional and recessional. Kathleen Lane, ISU professor of voice, sang the National Anthem, and the ISU Alma Matter. Elder Ronald J. Hammond, Church of Jesus Christ of Latter-day Saints, delivered the invocation and Rev. Father Elias Koucos, Greek Orthodox Church, Assumption of the Blessed Virgin Mary, delivered the benediction.
More than 40 academic and administrative entities representing ISU's seven colleges and administrative departments had interactive displays and or presentations. A stage was setup on the Quad. Entertainment included performances by ISU student and community groups.
AMI Semiconductor, Citizens Community Bank, the Idaho National Laboratory, Qwest, and the Greater Pocatello Convention and Visitors Bureau were the Inauguration Celebration's major sponsors.
Following the investiture ceremony an all-community barbecue featuring entertainment, academic information and various demonstrations by ISU departments, ISU student groups and community groups was held on the ISU Hutchinson Quadrangle.
---
Categories: