Weather of Lewis and Clark expedition subject of lecture
October 20, 2006
ISU Marketing and Communications
On Thursday, Oct. 26, the Idaho Museum of Natural History will host Vernon Preston for a talk titled "The Weather, Water and Climate of the Lewis and Clark Expedition." The presentation will take place in Museum Classroom 204 from 7 to 8:30 p.m.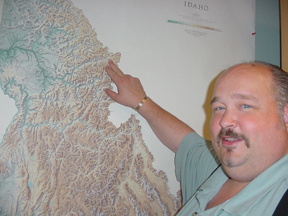 Preston, a native of eastern Washington, attended college at Washington State University studying geology and then transferred to the University of Northern Colorado to complete his degree in Meteorology. His weather career started with the National Oceanic and Atmospheric Administration's (NOAA) – Ocean and Atmospheric Research Division in Boulder, Colo., sampling and studying the greenhouse gases.
Preston is currently the assistant manager of NOAA's National Weather Service Forecast Office in Pocatello, which serves central and eastern Idaho. As the warning coordination meteorologist he serves the function as the outreach and weather safety program manager and public affairs officer working with local, county and state emergency managers and sheriffs.
In 2003, Preston was awarded the third highest recognition given by the U.S. Department of Commerce – a bronze medal – for assisting Idaho to become the nation's leader in "Storm Ready" counties and communities.
The Lewis and Clark weather, water and climate project was inspired by many members of Preston's family, both immediate and extended. The idea came to fruition because of his love for camping along the Lewis and Clark Trail, extended readings of the journals and various books, a Ken Burns and Dayton Duncan movie and a billboard. Traveling through Missoula, Mont., a commemorative billboard sponsored by the state of Montana reminded drivers about the upcoming Lewis and Clark Bicentennial. This billboard spurred Preston into further research on the topic and he found that no researcher had ever published the weather information from the expedition.
Three years after the project started, the "Weather, Water and Climate of the Lewis and Clark Expedition" book was printing in December 2004 as a government publication, which was the first times since the expedition that these three disciplines have been collected into one book. This publication will soon be available through the American Meteorological Society in late 2006 for all to enjoy.The Idaho Museum of Natural History is located at South Fifth Avenue and Dillon Street on the campus of Idaho State University.
For more information on the Museum and its current offerings, please call Kristin Fletcher at (208) 282-2262.
---
Categories: