The Holiday Classic 'A Christmas Story' coming to ISU stage
October 31, 2006
ISU Marketing and Communications
Theatre/Dance ISU and the Community/Alumni/Theatre Association (C.A.T.) are teaming up to present a Children's Readers' Theatre, "A Christmas Story" at 7:30 p.m. Friday, Nov. 17, and at 2 p.m. Saturday, Nov. 18, in the Beverly B. Bistline Thrust Theatre in the L.E. and Thelma E. Stephens Performing Arts Center.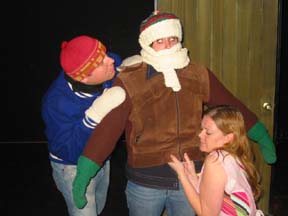 The production is based upon the favorite holiday motion picture written by Jean Shepherd that revolves around the play's central character, Ralphie, and his dream of receiving the legendary Red Ryder 200 Shot Carbine Action Range Model Air Rifle for Christmas. This holiday classic has been adapted by Philip Grecian and is now being presented especially for kids and their parents.
Reader's Theatre is a compromise between presentational drama and oral interpretation. It uses a group of animated readers who interact with any form of literaturein hopes of inspiring audiences' imaginations and appreciation of the material.
The speakers in Reader's Theatre are not attempting to become the characters but rather a projection of the complexities of the characters, so the audience can create the scenes and actions in their own minds.
Cast in the production are Josh Hurley, Matt Hatfield, Ted Bonman, Cassandra Case, Virginia Reynolds, Jamie Romine, Shaun Nichols and Tracy Mull. The Readers Theatre is directed and adapted by Dr. Sherri Dienstfrey, professor and chair of the ISU theatre and dance department. The stage manager is Lauren Bernal, assistant director is Katie Long, props master is Michael Payne, and house manager is Regina Champion.
Tickets are available now at the Stephens Performing Arts Center Box Office Mondays through Fridays from 10 a.m. to 4:30 p.m. Ticket prices are $10 for adults and $5 for children, K-12 students and ISU students. Tickets can be picked up in person, or by calling the Box Office at 282-3595. The ticket box office also will be open one hour before the Reader's Theatre starting time.
---
Categories: