Professor emeritus Sato honored as 'Legend of Nursing'
November 29, 2006
ISU Marketing and Communications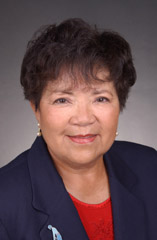 To her list of accolades Idaho State University emeritus professor of nursing Dr. Alyce Sato can now add the title "Idaho Legend of Nursing."
Sato was honored as such by the Idaho Chapter of the March of Dimes at the 2006 Nurse of the Year Award banquet held in Boise in November. Sato was one of three retired nurses selected by a committee as an Idaho Legend of Nursing. The other two were Alice Bevans of Genesee and JoAnn Vahey of Boise. These legends have each dedicated more than 20 years of their lives to the nursing profession and patients, and have made outstanding contributions to building the profession of nursing in Idaho during their long careers.
"Legends are usually dead, so since I'm not dead I feel really good about the award," Sato said with a deadpan demeanor.
Sato spent 47 years as a nurse and 28 years teaching nursing at Idaho State University. She started as a licensed practical nurse in 1958 and worked for eight years in the nursery and labor room at St. Anthony Community Hospital in Pocatello. She returned to school and earned her Bachelor of Science degree in nursing from ISU in 1969. Sato received a Master of Education degree from ISU in 1976 and a Master of Nursing degree from the University of Portland in 1979. In 1990, she earned a doctoral degree in nursing from the University of Utah.
"Dr. Sato had a long and very distinguished career in what was then the Department of Nursing," said Dr. Carol Ashton, associate dean and director of the ISU School of Nursing. "She was highly recognized for her teaching and student advocacy."
The March of Dimes Nurse of the Year Awards Program honored 20 active nurses in a variety of categories. Sherry Iverson from St. Luke's Regional Medical Center in Boise was announced as the Distinguished Nurse of the Year.
Proceeds from the event will benefit the Idaho Chapter March of Dimes. More than $50,000 was raised through sponsorships, ticket sales and donations.
The March of Dimes is a national voluntary health agency. Its mission is to improve the health of babies by preventing birth defects, premature birth and infant mortality. Founded in 1938, the March of Dimes funds programs of research, community services, education, and advocacy to save babies. In 2003 it launched a five-year campaign to address the increasing rate of premature birth. For more information, visit the March of Dimes Web site at www.marchofdimes.com or its Spanish-language Web site at www.nacersano.org.
---
Categories: