ISU students create outstanding art for Holiday card
November 13, 2006
ISU Marketing and Communications
A painting of a wintry scene looking through Idaho State University's historic Swanson Arch is the winning entry in ISU's new Holiday Greeting Card Contest.
The artwork depicts a wreath-covered arch in the foreground, with a snowman and a snow-covered tree on the Hutchinson Quadrangle, the ISU Administration Building and Red Hill in the background.
Tim Goodworth, an ISU Master of Fine Arts student and native of Blackfoot, will receive a $1,000 scholarship for his winning artwork. Second place went to Jen Hawkins, a freshman English major, who will receive a $500 scholarship for her oil painting featuring the Pond Student Union Building clock/bell tower with snowy trees in the foreground.
"We had 23 entries and we were very impressed with the quality of the artwork that we received," said Libby Howe, director of ISU University Relations, and one of five contest judges.
The quality of submissions was so good that the contest judges decided to acknowledge four other artists – Lucas Siems, Russell Wood, Danielle Feige (for two entries) and Chelsy Havlicak – with honorable-mention awards.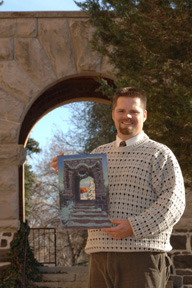 "The judges were just overwhelmed by the sheer number of entries that were deserving of recognition and felt that the category of honorable mention need to be added," Howe said.
Dr. Laura Vailas, wife of ISU President Arthur Vailas and another contest judge, originated the idea for the contest because she wanted to highlight the talent of ISU students. The winning entry will be featured on a holiday card to be sent out by the Office of the President.
"This is a new tradition for Idaho State University," Vailas said. "It's an opportunity for our students to participate in a juried competition, win some scholarship money, and attain widespread recognition of their work. I am delighted that this year's card will be one of the most beautiful Idaho State University has ever had."
The contest was open to full-time undergraduate and graduate students. Submissions were judged on how well they were able to "capture the spirit and beauty of the holiday season while thematically incorporating the University."
The winning entry becomes the property of the University, and the original artwork will eventually be displayed in the Pond Student Union Building.
The panel of judges also included ISU interim director of Alumni Relations Bill Kobus, ISU art professor Gail Dial and Associated Students of ISU Vice President Jennifer Brown.
Contest organizers are discussing making postcard prints of the winning and honorable-mention entries and selling the card packets to raise funds for the Holiday Greeting Card Contest scholarship fund.
Goodworth, 32, is in his second semester at ISU. His wife, Heather, is a clinical instructor in the ISU Kasiska College of Health Professions School of Nursing. Tim said it was a thrill to win the award and a challenge to create his work.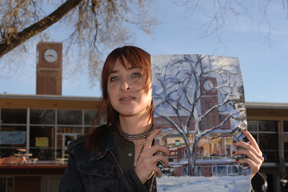 "I heard about the contest late, and my wife has just had our second baby, so I didn't have a lot of time," Goodworth said. "I just thought, and thought, and thought, about what are some of the symbols that define ISU. Of course, I thought about the mountain (Red Hill) with the 'I' and I thought about the arch, and the Administration Building, and I tried to incorporate all those things with a winter-type feel of the holiday season. I hope I came up with something fun and festive that accomplished those goals."
He earned an Associate Degree in fine arts from Ricks College, now BYU-Idaho, and a bachelor's degree in painting from Utah State University. Ironically, perhaps, while an undergraduate at USU Goodworth entered a similar contest for a holiday card and won it, too.
"As an artist, winning both events makes me feel good because it shows my work can appeal to a wide cross section of people," Goodworth said. "I didn't know if winning the first one was a fluke."
---
Categories: