ISU soccer team to play 10th-rank Utes on Thursday
November 8, 2006
ISU Marketing and Communications
Idaho State University will play the 10th-ranked University of Utah Utes in the first round of the NCAA College Cup Thursday at Ute Field at 4:30 p.m. The Bengals are making their fourth appearance at the tournament in the last six years.
"It's a really exciting time for us," said ISU head coach Allison Gibson. "It's exciting for our team, the university and the community. Our players have worked so hard and its fun and satisfying when you are rewarded for that hard work."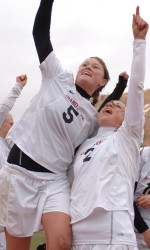 Idaho State heads into the tournament with a 10-8-1 record. The Bengals received the automatic bid into the NCAA College Cup after advancing past Sacramento State in the Big Sky Tournament championship last week in Pocatello.
The team's last appearance at the tournament was in 2003 when the Bengals traveled to Ute Field and advanced to the second round past Utah in a penalty kick shootout.
The Bengals play in the Salt Lake City pod, along with Utah, Brigham Young, and defending national champion Portland. ISU and Utah will be the first game on Thursday, followed by the Brigham Young-Portland game at 7 p.m.
An ISU win would advance the Bengals to Saturday's game to take on the winner of the Brigham Young-Portland at 5 p.m.
Utah heads into the tournament with a 15-4-1 mark and a No. 10 national ranking. The team tied UNLV in the Mountain West Tournament championship game, and UNLV advanced to win title on penalty kicks.
Idaho State and Utah played earlier this season on Sept. 22 with the Utes taking a 3-1 win in Pocatello. Utah holds an all-time 4-0-2 advantage over the Bengals.
"We're excited about facing an opponent that we have already played," Gibson said. "I think it's a tremendous advantage to play a team we have already played. We played well against Utah earlier this season and without them scoring a goal in the final seconds, that was really a 2-1 win for them. I really have a lot of faith in our team and I know that if we play our cards right, we can come out on top."
Thursday's game at Utah will be broadcast live on 91.1 FM KISU radio. The broadcast will also be available online at www.isubengals.com.
---
Categories: