ISU Senior High Honor Band concert scheduled Dec. 9
November 29, 2006
ISU Marketing and Communications
If you appreciate fine music performed by great bands, be sure not to miss the upcoming performance of the Idaho State University Symphonic Band, Wind Ensemble, and Senior High Honor Band on Saturday, Dec. 9, in a special afternoon performance at 4 p.m. in the Joseph C. and Cheryl H. Jensen Grand Concert Hall in the L.E. and Thelma E. Stephens Performing Arts Center.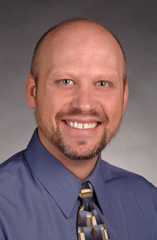 In its 18th year of existence, the ISU Senior High Honor Band brings together accomplished high school instrumentalists from southeastern Idaho for a weekend of music making. Honor band students audition by tape and are recommended by their high school band directors to participate in this special ensemble. The 60-piece group rehearses Friday evening and all day Saturday, then performs Saturday afternoon with the ISU Symphonic Band and Wind Ensemble.
The concert will open with the ISU Symphonic Band, which will perform several selections beginning with the exciting work "Slava" by Leonard Bernstein. ISU visiting music faculty member Aric Schneller will then join the ensemble to sing "Nessun Dorma," the enormously popular tenor aria from Puccini's "Turandot." Next, the band will perform "A Movement for Rosa" composed by Mark Camphouse honoring Rosa Parks, the late civil rights heroine.
The second half of the concert will feature the ISU Senior High Honor Band. It will perform an exciting assortment of music including a "Suite of Old American Hymn Tunes" by Walter Hartley, "Aquarium" by Dutch composer Johann De Meij, "Ghost Fleet" by Robert Sheldon and will close with the perennial holiday favorite, "Sleigh Ride," by Leroy Anderson.
Admission is free to all ISU students, staff, and faculty. General admission is $5 and $2 for precollege students.
---
Categories: